Anita's Story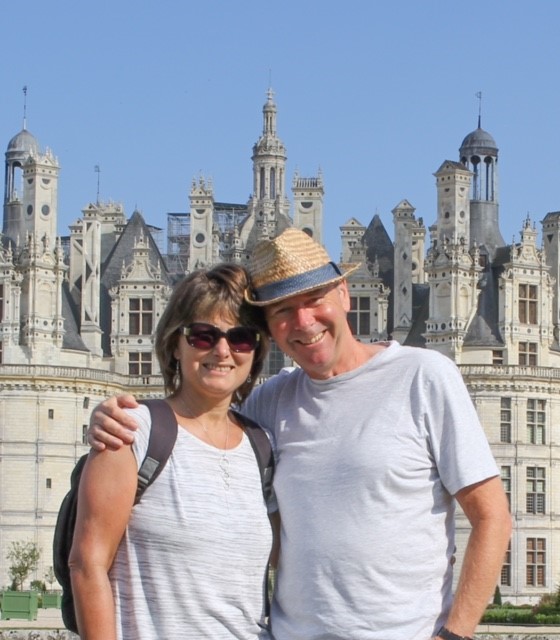 #life­is­for­living – Anita's Journey
On 5th November, 2020, Steve Almond lost the girl he fell in love with when she was 17. She was the girl he married when she was 20 and who had loved and supported him for over forty years. Anita was his best friend and soul mate who had given him the most precious gift of two children, Michelle and Nick - and in turn, three gorgeous grandchildren, Milo, Evie and Isabel.
Steve said, "Anita was the most cheerful, determined, passionate and caring person I have ever known. I am so blessed to have had her in my life."
Anita and Steve's story is one, if we are lucky enough, we can relate to. Anita had a job she enjoyed; teaching hairdressing at Blackburn College. She was a mother of two who loved taking holidays with her husband, Steve, and socialising with her sisters and friends, until, in 2012, at the age of 47 years, she was told she had terminal cancer and the prognosis was just two years.
This was a huge shock to Anita and the whole family. For the majority of those two years, Anita was receiving treatment, feeling poorly and suffering side effects. It was also time to make plans and look at the practicalities of what was involved with such a devastating diagnosis. Steve recalls the time they sat down to plan Anita's wishes for the end of her life, he said, "We opened a bottle of wine, poured ourselves a glass, and worked through the document that our hospice Clinical Nurse Specialist had given to us. It included questions such as, what five things are the most important to you? What would you want to be remembered for? What is your favourite music? Although it was very difficult, emotionally, for us both to complete, it helped Anita to share with me what her wishes were. It was also a turning point for Anita to say, 'Right, that's it - we've cried enough. Any time that we've got now is a bonus - so let's enjoy it!'
Steve goes on to say, "We did the figures and I was lucky enough to be able to retire at 50, just twelve months after Anita was diagnosed. We both felt so lucky to be able to have that precious time together. We bought a motorhome and started our adventures. We set off when we liked and travelled wherever we liked, exploring Scotland, Wales, England, Ireland and France. We went on cruises, flew to Jersey, Lanzarote, Tenerife, Spain and Portugal - anywhere we could get back from relatively quickly if we needed to. Whenever there was a window to escape, we would take it - fitting things in around Anita's treatment. The combination of Anita's sheer determination to live her life, her incredibly positive attitude and the care and support from her oncologist and nurses meant that we got way more time together than we ever thought we would".
From the point of diagnosis, Anita accessed the East Lancashire Hospice clinical services. A Clinical Nurse Specialist visited Anita at home to offer advice and support and gave her the comfort of knowing that they were a constant contact.
Steve said, "The Clinical Nurse Specialist became our "go to" person for everything other than chemotherapy and also provided amazing emotional support. We knew we could put our trust in her. She provided practical, hands on solutions and signposted us to other support services when they were needed. Anita also found the complimentary therapy at the hospice a huge benefit, especially during the time she received chemotherapy. She enjoyed a range of treatments and called it her "me time". It gave her some much-deserved time to spoil herself. The hospice was always a place that Anita enjoyed visiting. She made a point of getting to know as many of the hospice team as possible and benefited enormously from their help and advice in dealing with her illness - and also from their friendship.
"Anita began fundraising for the hospice because she wanted to give something back. It gave her a focus and something tangible to do. She always said it made her feel fulfilled when she was working on her next fundraising project. She loved that the hospice and its patients would benefit directly from any money she managed to raise. Through the generosity of family, friends and complete strangers, Anita raised almost £10,000.'
"It breaks my heart that Anita is no longer here but I'll remember, forever, the amazing times we've had. Particularly over the last 8 years, since her diagnosis with ovarian cancer – and Anita being so determined to make the most of our time together, to raise money for East Lancs Hospice and to inspire people with her courage, determination, strength and love.
"We will continue to help raise funds for the hospice. The care provided by their team for Anita over the years and, in particular, since she was admitted to Inpatients for the end of her life was truly exceptional - and meant that she could fulfil her last wish for a peaceful end."
Anita's legacy is to inspire people to enjoy life – do it because you can. By supporting East Lancashire Hospice, you will be helping others like Anita, Steve and their family to get the support they need at the time they need it. #life­is­for­living