East Lancashire Hospice Sky Dive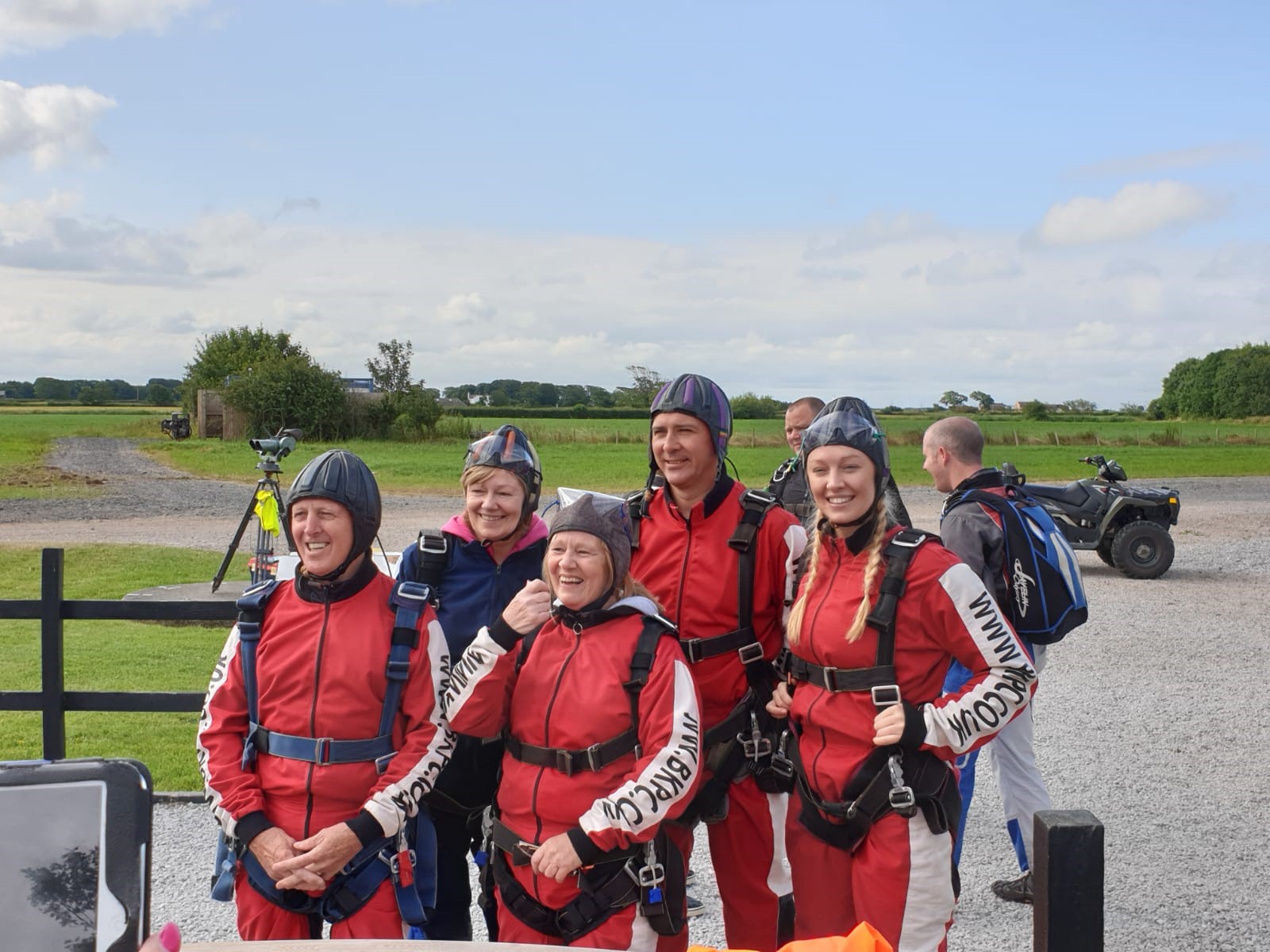 REGISTER NOW!
FOR MORE INFORMATION PLEASE CONTACT
CATHERINE - 01254 287011
THE SKY IS THE LIMIT!!
** Unfor­tunately due to the current COVID-19 situation our Sky Dive Event has been postponed **
We are looking for Dare Devils to jump 11,000ft-15,000ft out of a plane - Are you up for the challenge?
Date: Sunday 12 July 2020
Location: Black Knights Parachute Centre, Cockerham
Time: A member of the fundraising department will contact you with your arrival slot (please be prepared for an all day event)
This is a sponsored skydive to help raise money for patient care, and there are two ways you can raise the minimum amount:
Pay the £205 for the skydive in full and raise a minimum of £205.
Pay a £50 deposit to secure your place - you must then raise a minimum of £360.
This covers the cost of the jump and the sponsorship needed to be raised. If you are taking the registration fee from the sponsorship money raised, you MUST inform people at the point of them making the donation.
If you have any questions regarding raising the sponsorship please contact: catherine.leech@eastlancshospice.org.uk
Registration is now open - minimum sponsorship money MUST be paid in full to the hospice by 26th June.
---
We thank you for supporting East Lancashire Hospice and would like to keep you updated with news and events. Your details will NOT be passed onto a third party, other than those providing a service to East Lancashire Hospice such as printing and distribution of hospice commu­nica­tions. In these instances, the third parties are contracted to only use the information provided by the hospice in relation to the provision of our services. We never buy or sell data.

You can opt out of receiving this by post at any time by calling the fundraising department on 01254 287014 or email your name and address to info@eastlancshospice.org.uk with 'Remove from mailing' in the subject line.

You information for this event will be sent to you by email. Please state yes or no on the drop-down box to state whether you are happy for us to contact you by e-mail regarding future news and events.
These terms and conditions contain important information regarding parti­cipa­tion, and upon entry into the East Lancashire Hospice Skydive you agree to and accept them.
Parti­cipa­tion requirements
To take part in the East Lancashire Hospice Sky Dive, you must fit the parti­cipa­tion requ­ire­ments.
To complete a tandem skydive you must be over the age of 16 and over 8 stone and under 15 stone for male and 13 stone for females. BMI can be taken into consi­dera­tion for female participants - please ring Black Knights on 01524 791820 to discuss further.
If you are over 70 years of age or have a physical disability this won't necessarily stop you from taking part. Please contact the Black Knights on 01524 791820 to discuss further.
If you are unsure if this challenge is suitable for you, please contact your GP prior to booking.
Booking process, price and payment
Places are non-transfe­rable and non-refundable.
A £50 deposit will be required to secure your booking when registering. This will then be deducted from the overall registration fee of £205 payable by Friday 21 June 2019.
By registering to take part, you are agreeing to pay the £205 registration fee and raise sponsorship to an additional £205 - £410 in total. If you are unable to raise the full amount needed to take part, East Lancashire Hospice will refuse your booking and your deposit will not be refunded.
This is a sponsored challenge held to raise much-needed funds for East Lancashire Hospice and as such, every entrant will be expected to raise a minimum of £410. £50 to register and the remaining £360 to be paid by Friday 21 June 2019. Or you can self fund the full cost of £205 and then raise the minimum sponsorship of £205
If you cannot raise £410 sponsorship, East Lancashire Hospice may refuse your booking.
Places are limited and entries are strictly processed in the order we receive them.
You have the right to use £205 of your sponsorship to pay for your place. If you are doing this, you need to inform people at the point of them making the donation that you will be doing this. Alter­natively you can pay the skydiving fee yourself or ask your company to cover this for you, and raise the remaining funds (at least £205) through sponsorship and fundraising events.
Registration for this challenge will close at 5pm on Friday 21 June 2019
Sponsorship money MUST be paid in full to the hospice by Friday 12 July 2019
Am I insured?
You will automati­cally be covered by the British Parachute Association, which is a third party insurance for up to £2 million.
This does not cover personal injury. Should you wish to arrange further insurance please contact Black Knights on 01524 791820 to discuss further.
Cancellation
Please be aware you have chosen a weather dependant sport and as such you are unable to parachute if the weather is not within the safe limits to skydive. We will endeavour to give you as much notice as possible, so please ensure you keep us up to date with your current contact number.
Please be aware that your 'Jump' time will allocated when you register on the day, so there is a possibility that you could be there for a number of hours (up to 8 hours maximum).
Please note, the skydive can be postponed if the weather conditions change after you have registered.
East Lancashire Hospice reserve the right to cancel this event at any time. In the event of this happening, entry fees and sponsorship will be refunded in full or transferred to rescheduled date.