Morecambe Bay Walk 2019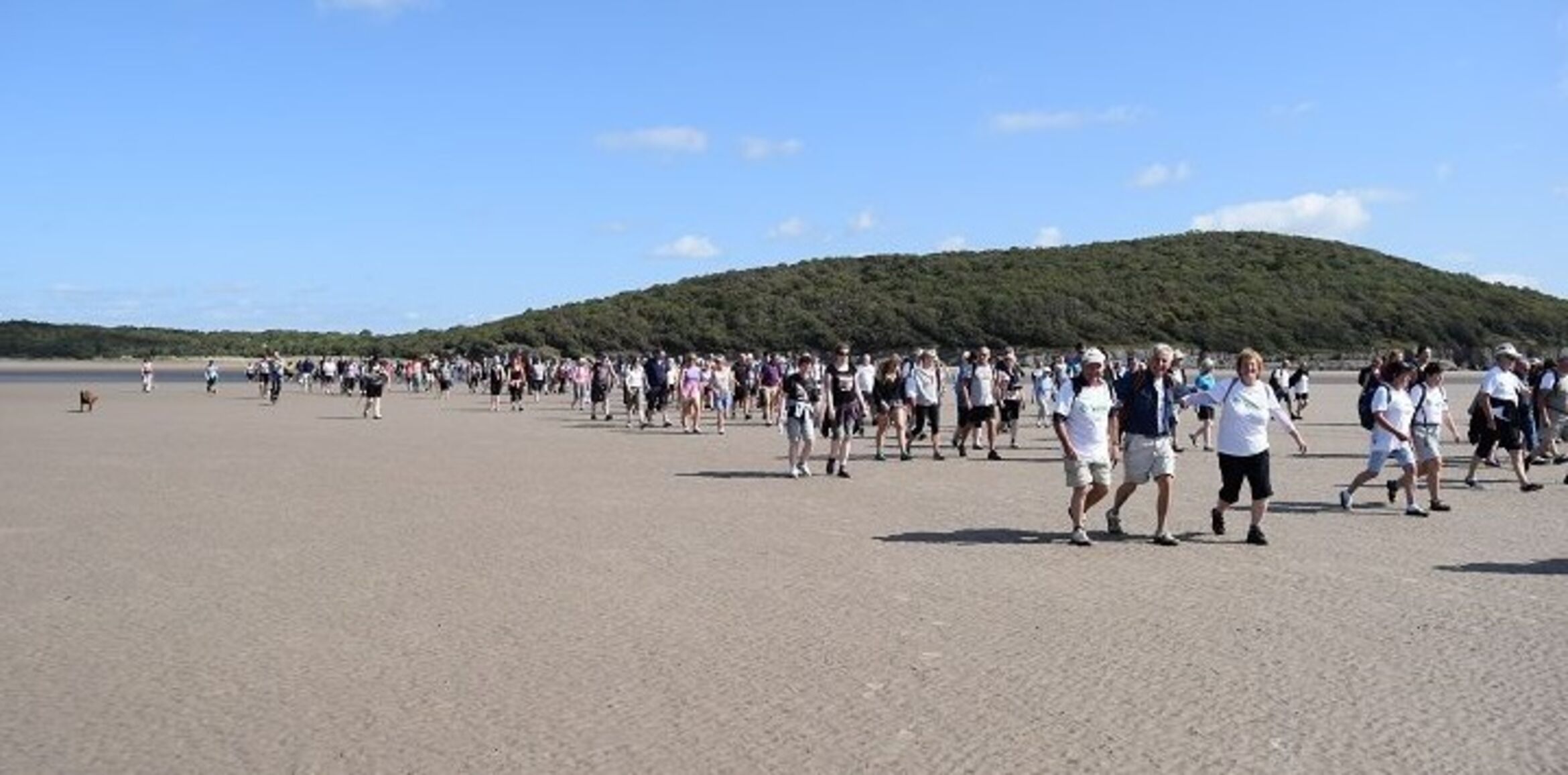 Join us for one of the world's most beautiful journeys across the Morecambe Bay sands on Saturday 7 September, starting at 11:45am from Arnside to Kentsbank.
Once registered, you will receive a pack with all the information needed for the walk. If you do want to speak to someone about this event, please contact fundraising – 01254 287012
Registration for this beautiful walk will close on Monday 2 September at 5pm.
** Great News we have 20 more places available click on the link below to avoid disap­po­in­tment **
Important information
You must sign in before the walk. You may sign in from 11.30am on the Promenade at Arnside (near to the monument). The walk begins at 11.45am prompt from The Promenade, Arnside to Kents Bank Station, near Grange-over-Sands.
The route, direction and date of the walk are subject to change due to weather conditions. Please be aware you may be called on the number you provided from 24 hours before up to the walk commencement. You are responsible for contacting all members of your group in the event of any changes. The walk is 8 miles and will take approximately 3 to 3.5 hours to complete (there will be a tractor and trailer following for anyone who needs it along the way).
You may park at Arnside and return by train from Kents Bank or Grange-Over-Sands back to Arnside. Due to the late start it may be helpful to park at Grange-Over-Sands before the walk and take the train to the start point.
To check train times & parking restrictions visit nationalrail.­co.­uk or ring National Rail Enquiries on 08457 484950. There is limited parking at Arnside and Kents Bank so if you park in residential roads you MUST park considerately as there have been problems in the past with local residents being blocked in and access being blocked for emergency vehicles. It is recommended that old trainers or sandals are worn as you will get wet and muddy along the way.
Wellington boots are NOT advised. Anyone wearing heels/wedges will not be able to take part in the walk. (Dependant on the water level and how tall you are will determine whether you need to paddle or wade thigh deep through the channel of the River Kent at the half way point).
Please return your sponsor form by the date shown on the back of the form. The registration fee only covers our admi­nis­tra­tion costs so we rely on your sponsorship money to raise vital funds.
We thank you for supporting East Lancashire Hospice and would like to keep you updated with news and events. Your details will NOT be passed onto a third party, other than those providing a service to East Lancashire Hospice such as printing and distribution of hospice commu­nica­tions. In these instances, the third parties are contracted to only use the information provided by the hospice in relation to the provision of our services. We never buy or sell data.
You can opt out of receiving this by post at any time by calling the fundraising department on 01254 287014 or email your name and address to info@eastlancshospice.org.uk with 'Remove from mailing' in the subject line.
You information for this event will be sent to you by email. Please state yes or no on the drop-down box to state whether you are happy for us to contact you by e-mail regarding future news and events.