Pendle Doors
What is the nature of your business and the area you cover?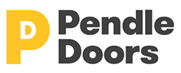 We are a specialist door and bespoke Joinery Manufacturer. Pendle Doors cover the whole of the UK, and are a company who are constantly progressing in every aspect, to ensure that our products are manufactured to the latest requirements.
We were established in Burnley in the 1950's. Since its early stages this family run business has built an enviable reputation for exceptional product quality, reliability and customer service. This means that we are well placed to meet the expectations of a demanding client base.
Key contact details if anyone would like to use your business
For a tailored estimate for any of our products or services, please contact one of our Internal Estimating team on 01254 870850.
You can also complete the contact form on our website page and we will reply to your query promptly. Alternatively, send any queries by email to gemma@pendledoors.co.uk for further information
Why are you taking part in this year's East Lancashire Hospice Corporate Challenge?
The decision to support the hospice came after consultation with Pendle Doors employees, many of whom have first-hand experience of the hospice services and felt passionately about wanting to support East Lancashire Hospice.
The challenges are a great team bonding exercise too.
What does you company have planned for the four month challenge?
We have quite a few things planned. We have a golf day challenge in May, a sky dive planned for July and we also have some sponsored walking going ahead too. There are a few other ideas in the pipeline. There are exciting times ahead!