Will Week 2022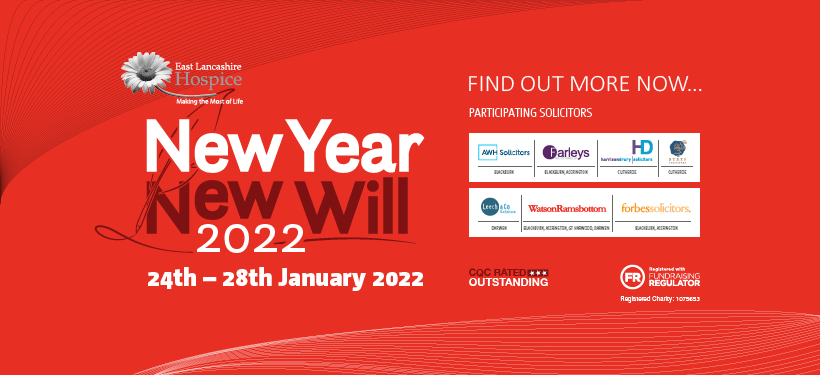 New Year New Will!
We are delighted to announce that we have once again teamed up with some of the leading solicitors from across Blackburn, Darwen, Hyndburn and the Ribble Valley to bring you Will Week from Monday 24th - Friday 28th January 2022.
As part of Will Week, local solicitors kindly donate their time and expertise to support the Hospice. In return for a donation to the Hospice, you can have your Will written and the solicitor will waive their usual fees. The suggested donation is £100 for a single will or £175 for a mirrored will and every penny comes directly to East Lancashire Hospice towards patient care.
To take advantage of this service, all you have to do is phone the solicitor of your choice and book an appointment between Monday 24th to Friday 28th January 2022.
Please note that appointments do not have to take place during this period, you simply have to book your appointment during this time.
A will is an incredibly important document that everybody should have irrespective of your age or health.­ If you've delayed writing your will, now is the perfect opportunity to put your affairs in order for your own peace of mind. By making a will, you can let your family and friends know your personal preferences such as arrangements for your children or details for your funeral.
All you need to do is ring any of the below solictiors between Monday 24th and Friday 28th January, quoting 'East Lancashire Hospice Will Week' and make your appointment.
Alter­natively, for more information, please get in touch with our fundraising team - (01254) 287011.­
Appointments will book up quickly and so to avoid disap­po­in­tment we recommend making your booking as soon as possible by calling one of the numbers below.­
Please note that all appointments will adhere to current Covid-19 Government Guidelines, however each solicitor's office may have a different way of working and seeing clients at this time. Make sure you check with your chosen solicitor and understand their social distancing policies.
Instructions
How to take part:
To book your appointment, choose your solicitor from the list below and contact them directly. Explain to them that you would like to take part in East Lancashire Hospice's Will Week and they will do their best to accommodate you.
1. Choose your solicitor branch from the list below.
2. Contact your chosen solicitor to book your appointment.
3. Write your will with your solicitor, they will waive their own fee and you make a donation back to East Lancashire Hospice for their services.
AWH Solicitors

FIRST FLOOR, ONE CATHEDRAL SQUARE, BLACKBURN, BB1 1FB
01254 274000

Bury's Solicitors

8 RAILWAY VIEW RD, CLITHEROE, BB7 2HE
01200 405026

Leech & Co.

ALPINE GROVE, BLACKBURN, BB2 4QW
077572 373813

Farleys Solicitors

Hurstwood Court, Duttons Way, Shadsworth Business Park, Blackburn BB1 2QR
01254 367854

12 - 20 WILLOW STREET, ACCRINGTON, BB5 1LP
01254 367854

Watson Ramsbottom

25 - 29 VICTORIA ST, BLACKBURN, BB1 6DN
25 BLACKBURN RD, ACCRINGTON, BB5 1HF
18A - 20 QUEEN ST, GT HARWOOD, BB6 7QQ
33 - 39 RAILWAY RD, DARWEN, BB3 2RL
01254 672222

Forbes Solicitors

GROUND FLOOR, OAK HOUSE,
28 SCEPTRE WAY, WALTON SUMMIT,
PRESTON, PR5 6AW
01772 220022

GOTHIC HOUSE, ST JAMES STREET
ACCRINGTON
BB5 1NT
01254 872111

RUTHERFORD HOUSE, 4 WELLINGTON STREET ST JOHNS
BLACKBURN
BB1 8DD
01254 222399

Harrison Drury

21 CHURCH ST, CLITHEROE, BB7 2DF
01200 422264