Sky's the limit for hospice fundraisers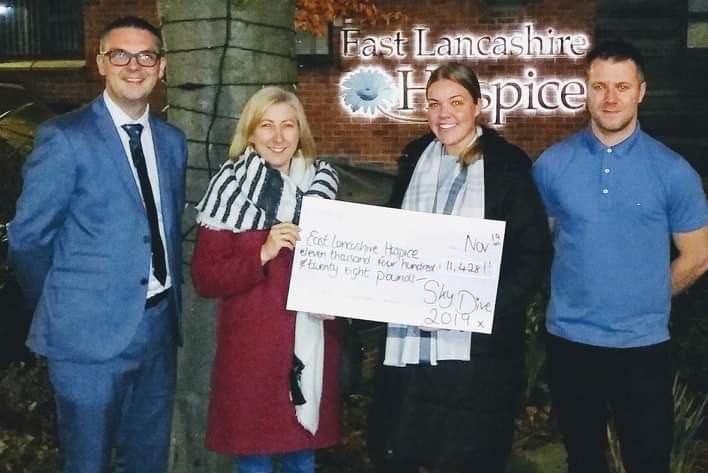 Skydivers Nick Pitman, Jackie Schofield, Stacey Collier and Daniel Rushton
A group of thrillseekers took the plunge and completed a sky dive to raise £11,428 for East Lancashire Hospice.
Fourteen daredevils from across the region took part in our annual skydive event, jumping out of a plane at 15,000ft.
Abi Banks, from Houldsworth Solicitors in Clitheroe who did the skydive as part of a corporate challenge, said: "I'm a bit of an adrenaline junkie and jumping 10,000ft out of a plane definitely got my heart rate going. You need to make every minute of life count and I would 100 per cent recommend a skydive being a part of that.
"I wouldn't think twice about doing it again to raise money for such an amazing cause which is close to a lot of people's hearts."
Emma Romasanta, who works with Abi at Houldsworth Solicitors, said: "The craziest thing I've done to get out of being stuck in the same old routine is a skydive. I needed to do something different and so I actually went skydiving to turn over a new page. The goal is to die with memories, not dreams".
The skydive took place at Black Knights Parachute Centre in Cockerham, Lancaster, and the group raised an incredible £11,428.
Janet Rompca, from Keyfleet Insurance in Ribchester, said: "I had always wanted to do a skydive and, when the opportunity to do one for such a worthwhile cause presented itself, it was a no brainer for me. The whole experience was amazing and I thoroughly enjoyed it. The support from the hospice was fantastic and they made it all very easy.
"The day itself is definitely up there with one of the best days of my life - I was buzzing for days. I now look at the sky in a different way because I flew through it (albeit strapped to a rather handsome Spanish man!). I paid for the footage and there hasn't been a week gone by where I haven't watched it. The team at Black Nights Parachute Centre were brilliant and so organised. All in all, it was a great experience and a great way to raise money for people that really need it. I'd recommend it!"
Daniel Rushton commented: "It's the most horrendously, amazing experience you'll ever have!"
Do you want to take part in an exhilarating skydive? Are you ready to take on the challenge for East Lancashire Hospice? Then sign up to our 2020 skydive event. Freefall from 15,000ft and feel the thrill of this once in a lifetime experience; an adrenaline rush like no other.