John's Story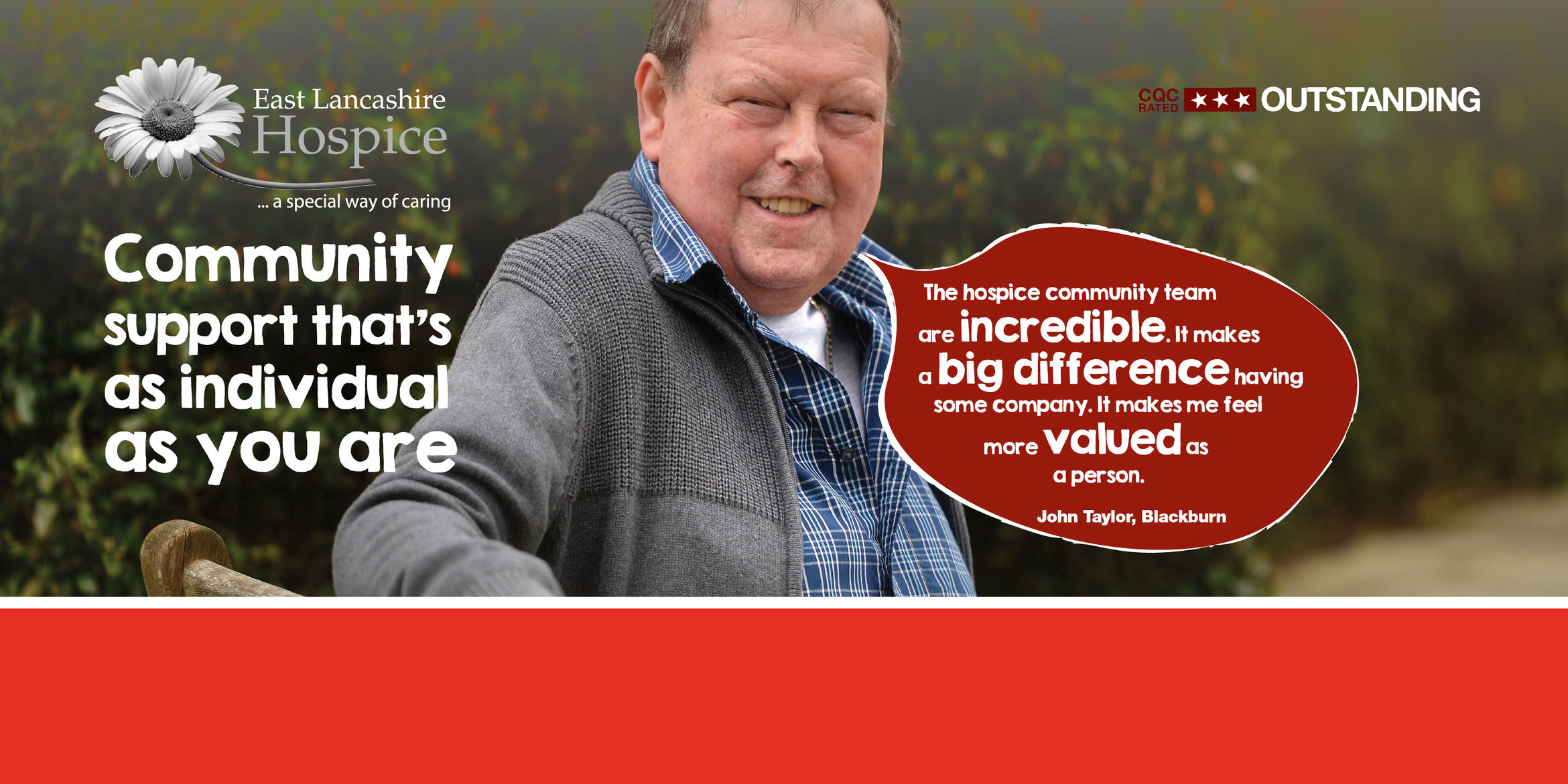 Community services offered by East Lancashire Hospice have helped patient John Taylor cope when times were tough.
John, who has a type of blood cancer called Chronic Lymphocytic Leukaemia, has attended the Creative and Support Therapy (CaST) group at the hospice for 18 months and said it's had a big impact on his mental wellbeing.
He first attended the group after being referred from Christies following a bone marrow transplant.
"I was diagnosed years ago, but the symptoms didn't really kick in until about 2011 when my immune system started failing. The doctors can't stop it, but they are trying to slow it down," said John, 62, from Blackburn.
"I was getting depressed so they sent me to the CaST group at the hospice for support. At first, I was a bit sceptical, but I got chatting with the other members and I felt like I could talk openly and honestly because everyone is in the same boat."
John, whose wife died at the hospice 12 years ago, also accesses the Hospice at Home service to help him live independently and said he has benefited from having someone around to help.
"The Hospice at Home team are incredible. The staff will do your ironing, washing up, or just sit there and provide some company. Nothing is too much trouble.
"I didn't want to be bothering people but they insisted and it makes a big difference having some company. It makes me feel more valued as a person. We sit and talk about life in general, not just my illness."
He also has the support from Clinical Nurse Specialist Lianna.
"Lianna does a lot for me; She comes to the house, arranges medical appointments and gets things sorted straight away. She has even helped with things like getting me a different wheelchair, home help and access to complimentary therapies.
"The whole community team have done so much for me. I don't know what I would do without their support."
John has also accessed some of the complementary therapies on offer, such as reiki and massage, feeling the benefits, such as being able to walk easier, for a couple of day afterwards. He has also had help dealing with his emotions, thanks to the support of a counsellor.
"Seeing a counsellor has helped me release my emotions before they build up too much. She helped me come to terms with my illness and everyday life. She still keeps in touch and I know that the offer of help is always there."
John saw a physiotherapist to ease the stiffness caused by his scleraderma – a rare condition which causes hard, thickened skin and problems with internal organs – and help keep him mobile.
John added: "People think the hospice is a place to go and not come out – but there's so much more help and support available than people realise - and this service extends to the home.
"The staff really care about each patient – not just their treatment but also their physical and mental wellbeing. It makes life that little bit easier.
"The hospice is a place to go to live with your illness, not just die from it. I have started to love life again and the hospice has helped me to do that."
To read more stories like John's, click here