Correct Fire Labels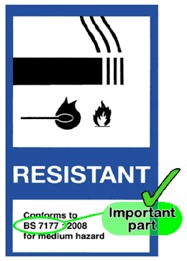 See 'Furniture and Furnishings (Fire Safety)
Regulations 1988/1989, 1993 and 2010'
It is a legal requirement that we as a charity, cannot sell or give away donations of upholstered furniture, mattresses or beds that do not have valid fire labels. As a result, please do not be offended when we ask if your items comply with this regulation – we cannot collect or accept items that do not comply. The labels will be stitched in place and will include the BS7177 code or hand written batch numbers as shown in the the image to the right. This applies to both beds and mattresses.
The labels below are for upholstered furniture.
Unacceptable Labels
To the right are examples of labels that do not comply with the fire regulations. If your item only has these labels and not the relevant ones above, then we are afraid that we will not be able to accept it.