Mark's Story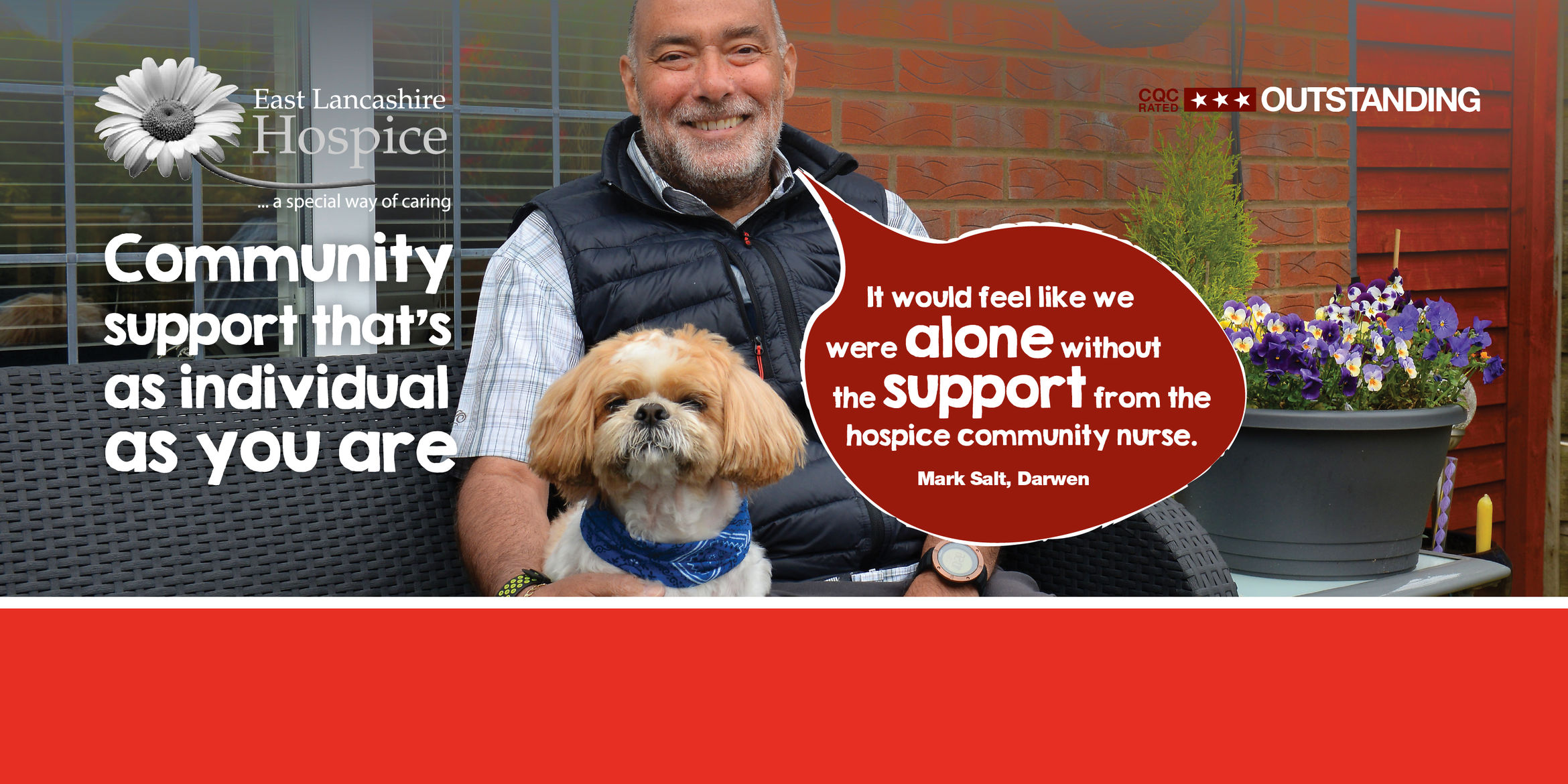 "It would have felt like we were on our own if the hospice community services hadn't have got involved," says Mark Salt, a patient with East Lancashire Hospice.
"It would have been one lonely journey, but knowing that we are supported makes a big difference."
Mark, 59, was diagnosed with bowel cancer in November 2016. The father-of-two said: "I had been ill for about six months with pain in my stomach, but I was a typical man putting up with the agony."
Mark was referred to hospital for tests, but a procedure Mark was due to have was cancelled when they discovered his bowel had ruptured. Doctors attempted to remove the tumour in December but were unable to due to the location of the cancer and the fact it had spread.
Mark has since undergone four cycles of chemotherapy, but doctors have told him the treatment is no longer working.
"Containing the cancer is making me too poorly and open to infections," said Mark. "I have good and bad days and have battled with sepsis and a hole in my bowel."
Mark and his wife Carol were soon introduced to East Lancashire Hospice and given a tour of the building by their Clinical Nurse Specialist. The hospice even allowed them to bring their Shih Tzu, George, with them for company.
"I thought the same as everyone else – you go to the hospice to die," said Mark. "But it wasn't what I expected. It was airy and everyone was nice. The staff couldn't do enough for us.
"During the tour we were told I could have complementary therapies like reiki and massage. I didn't expect anything like that at all from a hospice."
Following a referral by the Community Clinical Nurse Specialist, Mark signed up for a course of massages, which he said made him feel more relaxed.
"I had never had a massage before. The sessions have lasting benefits and make me feel relaxed. My body feels at ease and much more comfortable."
Mark's wife Carol, 62, who is now his sole carer, was also offered complementary therapy.
"Carol had a course of reflexology and back massage. She said just being able to speak to someone who knew what we are going through did her the world of good."
The couple, who have been married for 12 years (on 6 May 2018), have been together for 21 years. They are regularly visited in their Darwen home by Melanie, their Clinical Nurse Specialist from the hospice, who checks in on them to make sure Mark is comfortable.
"Melanie helps with pain management, and she has also helped us out with other things like getting a blue badge permit and a wheelchair. We know that if we need her she is always there."
Mark, who until recently worked as area sales manager for a kitchen appliance company, has also accessed the counselling service offered through the hospice's community team and said this has made a big difference to him.
"I don't talk to family about my illness. I find it hard because I don't like to see them upset. That's where the hospice comes in. The staff are strangers when you first meet, but with each session you get to know them and they get to know you and you can confide in them. You can open up to them about anything."
To read more stories like Mark's, click here