Peter's Story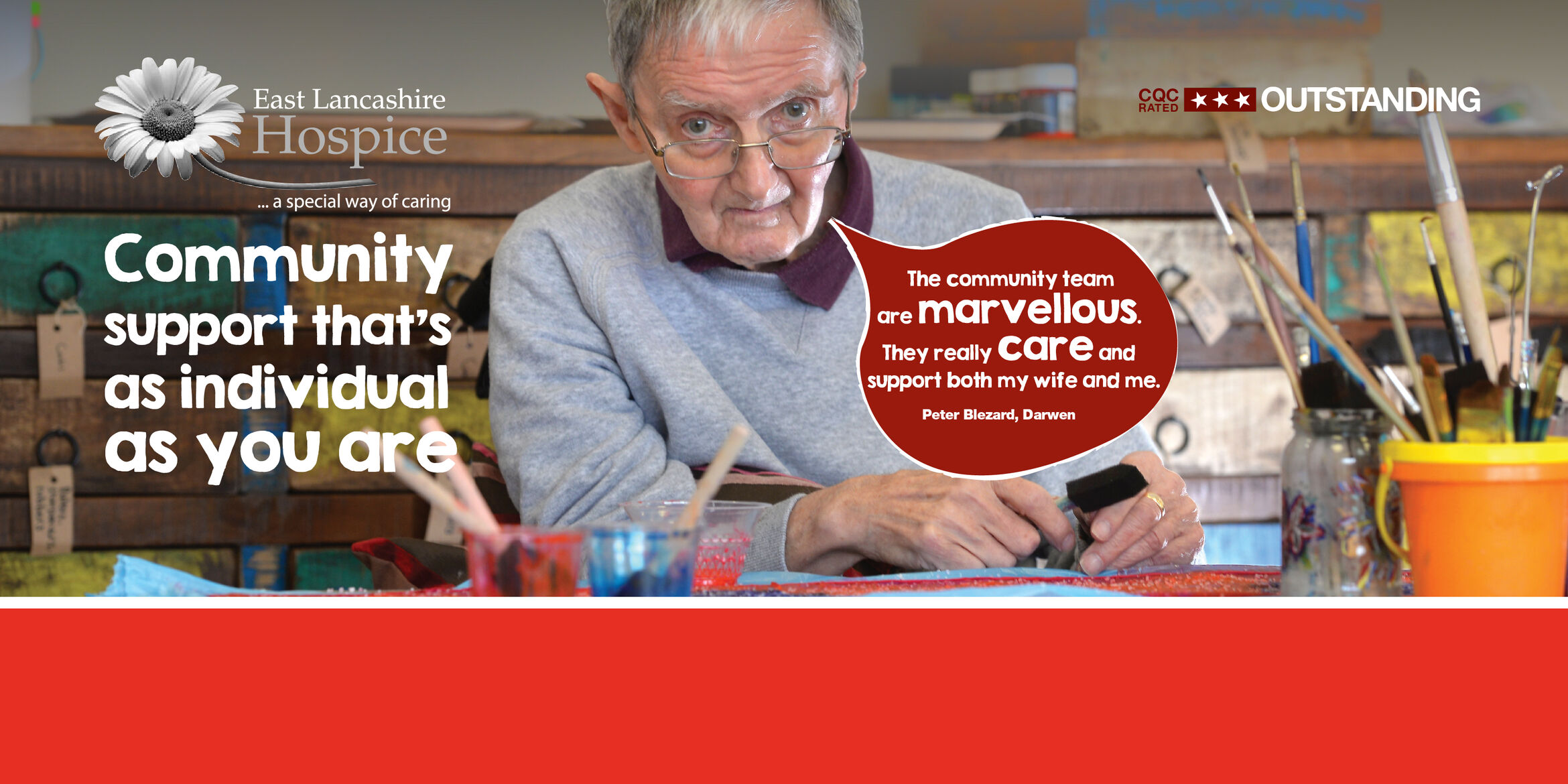 Advanced Parkinson's has been life-changing for Peter Blezard and his wife Susan.
Former headteacher Peter, 71, was diagnosed with Parkinson's 23 years ago. Four years ago he was also diagnosed with Dementia, brought on by his illness.
Peter and Susan, his wife of 44 years, access support from East Lancashire Hospice's Hospice at Home team and Peter regularly attends the Creative and Supportive Therapies (CaST) group at the Hospice on a Tuesday.
The couple first heard about the Hospice supporting patients with Parkinson's through a friend and were initially referred to the Hospice's services through their GP.
Parkinson's affects Peter's mobility and Susan said he can have both good and bad days.
"He can just about manage to get around the house with a walking frame and the support of carers, but needs a wheelchair if we go out. His illness restricts what we can do together."
The Darwen couple, who have two sons and three grandchildren, met when Susan, a former teacher herself, started at Holy Trinity School in Darwen. Peter has also served as an ordained minister at Bolton Road United Reformed Church in Darwen.
"The couple are usually visited by Hospice at Home staff once or twice a week free-of-charge. A service which Susan describes as "marvellous".
"They really care and support both Peter and me," Susan says. "I feel that I can go out and not worry about him when he is in their care. Peter is always so happy to see the different faces.
"If we have a special occasion, the Hospice at Home team always try and accommodate it. The Hospice at Home team make it possible for me to attend events like our grandson's first birthday party that Peter isn't well enough to attend."
Peter's Hospice at home carers regularly sit with Peter, help with meals and personal care, play dominoes and chat with the sport fan about his favourite teams.
Susan said: "I think anyone who is a carer needs a little bit of space. You do it willingly and with love, but you need time off to recharge your batteries. Hospice at Home makes a huge difference."
Susan said Peter loves attending the weekly CaST group at the hospice.
"CaST is undoubtedly the highlight of Peter's week. The staff organise lots of wonderful activities and through this he has developed some really good relationships with other clients – they all support each other.
"The Hospice is the loveliest place you can imagine. The whole atmosphere is wonderful. It's so welcoming and such a calm place. It's somewhere Peter feels safe, secure and valued."
To read more stories like Peter's, click here