Walking in memory of Brian
Jean Fish is keeping the memory of her late husband Brian alive by taking part in this year's Starlight Memories Walk.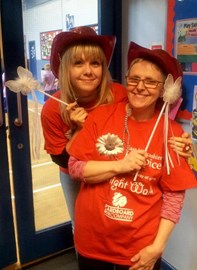 Jean, 64, said the East Lancashire Hospice, who have organised the four mile walk around Blackburn on the evening of Saturday 8 July, is close to her heart because it's where her husband of 35 years Brian spent his final weeks.
She said: "My husband was in the hospice for six weeks before he died five years ago from kidney cancer. The staff made us feel so at ease. For the last two weeks, I practically moved into the hospice. They moved a bed into the room for me and it felt like home for him for those six weeks. The staff helped us to prepare for what was to come.
"It all happened within 6 months – from being diagnosed to him dying. Initially he went into the hospice for pain control. They made him feel so much better and we were surrounded by such amazing people."
Jean, who works as site supervisor at St Cuthbert's School in Darwen, has pledged to help raise funds for the hospice by taking part in organised events. She has already completed the Santa dash and many midnight walks. Jean has already signed up to this year's Starlight Memories Walk – which is open to men, women and children over the age of 6.
She said: "My two boys have always done the stewarding for events, but this time they can take part if they want. I think it's a great idea to open it up to the whole family. I know men will appreciate having the chance to be part of the event.
"One of my sons was struggling after Brian's death and went back to the hospice for counselling. They are there not just for the patient, but for the family afterwards as well.
"Because it's starting and finishing at the hospice, people will be able to see where their money is going to be spent, and how many families they will be helping."
Registration costs £15 for adults and £10 for children. Every participant will receive a sponsorship form, rout map and t-shirt. Click here for more details: https://­eastla­nc­shos­pice.­org.­uk/­starlight-memories-walk-2017