Anita is an egg-cellent fundraiser
Anita Knagg is an egg-cellent example of an East Lancashire Hospice supporter. For the past five year, Anita, 65, has been knitting chickens to sell at the hospice to raise funds.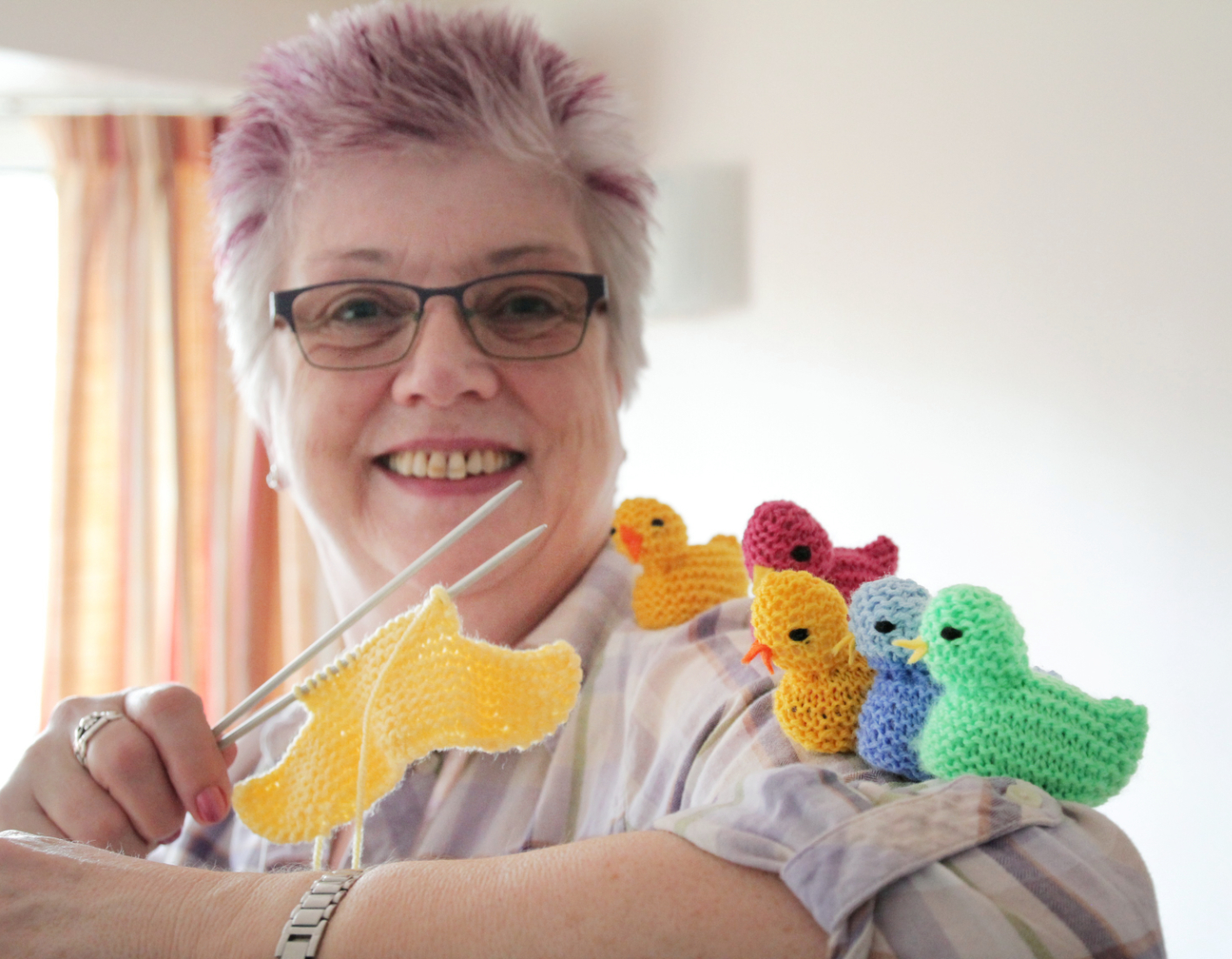 Anita, from Gloucester Avenue, Rishton, is doing a cracking job – and said she finds the hobby relaxing.
She said: "I make five or six chickens every evening while I'm sat watching the television. Each one takes me around 20 minutes from start to finish. I find it very therapeutic."
Anita has been knitting for 60 years – since the age of five after picking it up from her mother. She started by stitching teddies, and by the time she was eight she was reading patterns.
About 18 months ago the former carer and teacher broke her wrist in a fall.
She said: "I was given lots of exercises but the thing that helped the most was the knitting. It's helped me regain full movement in my fingers."
As well as Easter chicks that hold Cadbury Crème Eggs, which are donated to the hospice, Anita also knits teddies for the hospice raffle and Christmas puddings that hold Ferrero Rochers.
Anita is part of the fun-raisers – a group of friends who raise money for the hospice while doing things they enjoy. The group – consisting of Anita, Chris and daughter Sarah Knagg, Heather, Jim and Kate Wilson, and Sue and Alan Poyner – formed after the death of Sue and Alan's niece Natalie, who was cared for at the hospice before she died five years ago.
Anita said: "This is the fifth year I have been making chickens. The first year I made about 20, and then 100 the following year, 150 the year after and 200 for the last two years using wool donated to the hospice shops.
"The chickens are made from whatever colour yarn I have. Some are the traditional yellow chickens, and others are multi-coloured. I love them all!
"I thoroughly enjoy knitting. I even knitted one of the chickens while walking down the prom at St Ann's with the yarn in my pocket. I got a few strange looks."
Anita said she starts knitting the Christmas puddings in September, and then when she's finished she starts on the chickens. In between she knits the teddies.
"I think it's brilliant. I'm entertaining myself in the evening, and the hospice is making money it didn't have before. It's a win-win scenario."
ENDS
Here's a copy of Anita's tried and tested chicken pattern. Now, get cracking!
To make your chick you will need:
Small amount of yellow DK yarn
A pair of needles UK size 3.75 / 9 / US 5
Small amount of stuffing for the head
Small piece of felt for the beak
Chocolate egg
Body:
Cast on 26 stitches
Row 1: K1, increase 1, K to the end
Repreat first row until you have 36 stitches on the needle (10 rows)
Knit 4 rows
Shape the tail
Row 1: K3, bring yfwd, slip next stitch, ybk, move slip stitch back to left needle
Turn
Row 2: K3 to end
Row 3: K2, bring yfwd, slip next stitch, ybk, move slip stitch back to left needle
Turn
Row 4: K2 to end
Row 5: Cast off 10 stitches, K to end
Repeat last five row for the other side to shape tail
You will have 16 stitches left in the centre of the knitting
Head
Rows 1-4: Knit
Row 5: K1, K2tog, K to last 3 stitches, K2tog, K1
Rows 6-8: Same as row 5
Rows 9-10: knit
This will leave you with 8 stitches. Cut the yarn leaving a length 30cm (12") long.
Thread a needle with the 30cm length and run it through the 8 remaining stitches, pull them tight.
Continue with the yarn to sew up the head, back and side, leaving a hold big enough to insert an egg.
Stuff the head lightly. Insert the egg, this will give you the body shape making it easy to see where the neck should be.
With a needle threaded with the yarn, do a running stitch to cinch the neck (not too tight), fasten off securely.
The eyes are French knots made from black yarn.
Sew on a beak made from red felt.