Brickosaurs Trail Official Partner Announcement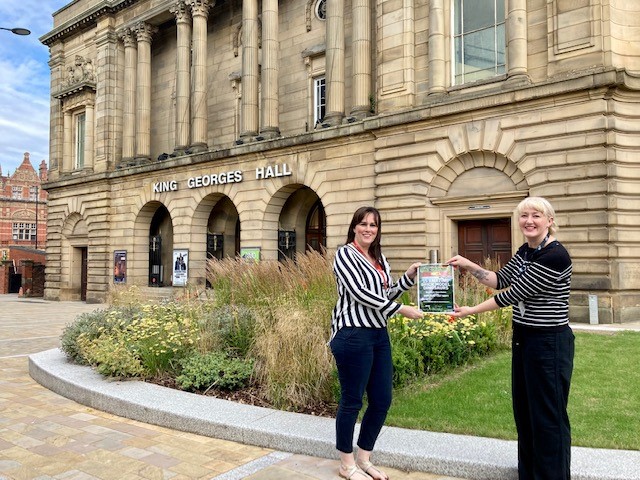 East Lancashire Hospice is delighted to announce it's the official charity partner for Blackburn's Brickosaurs trail this summer!
The Brickosaurs trail, which builds on the award-nominated brick model trail from 2019 featuring characters from PAW Patrol, will offer families the opportunity to see ferocious dinosaurs walking the earth once again in Blackburn town centre which has been aptly renamed #Brickburn for the event. A total of fifteen amazing brick model dinosaurs will be available to view for FREE as part of the trail located around the town centre between 20th August and 1st September 2021. Highlights include a whopping 2m tall Velociraptor and a Parasaurolophus measuring over 3m in length, made of over 113,600 bricks!
There will also be competitions and interactive trails to follow to be in with a chance of winning some fantastic prizes.
Catherine Price, Blackburn town centre BID Manager, said: "I'm delighted that East Lancashire Hospice will be the official charity partner for this event, I hope we can help raise a lot of money for this amazing organisation.
We are so excited to welcome the unique collection of bright and colourful Brickosaurs sculptures to #Brickburn. The trail, funded by Blackburn BID, will create a fantastic interactive family-friendly day out.
"The brightly coloured dinosaur models look spectacular. We can't wait to see visitors' faces when they're faced with these Jurassic beasts within our businesses.
"Don't worry if you can't get away this summer, you'll find amazing, fun, free activities in Blackburn town centre."
Katie Elliott, Fundraising and Marketing Lead at East Lancashire Hospice said "We are delighted to be teaming up with Catherine and the Team at Blackburn BID for the Brickosaurs trail. Blackburn town centre is at the heart of our community and after what has been an incredibly challenging 18 months for everyone, we can't wait for people to be able to enjoy what is sure to be a fun event whilst supporting their local hospice".
Visitors to the trail will have the opportunity to make a donation to East Lancashire Hospice via a QR code which will be displayed with each of the 15 Brick Dinosaur models. If you would like to make a donation please click here justgiving.­com/­campaign/­ELHbric­ko­saurus-trail
To help track down all the Brickosaurs there will also be a free trail map which will shortly be accessible on eastla­nc­shos­pice.­org.­uk/­brickosaurus-trail, or alternatively this can be downloaded via the Experience Blackburn app.
The trail is available between 20th August and 1st September 2021 7 days a week between the hours of 09:00am and 6:00pm.
Find our more by visiting www.­blackburnbid.­co.­uk/­brickosaurs