Clitheroe firm's fundraising triumph for local hospice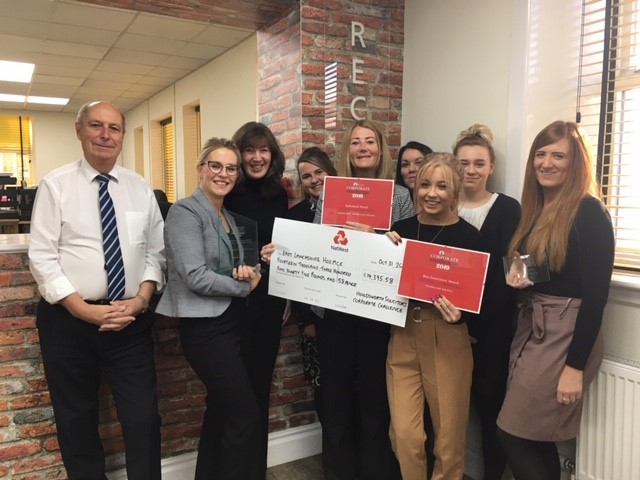 Houldsworth Solicitors have just been announced the winner of the East Lancashire Hospice Corporate Vhallenge – they raised an amazing £14,395.58 for the Hospice as part of the annual Corporate Challenge.
The Clitheroe and Whalley based firm beat off 24 other local companies to claim the award for the most money raised.
Amanda Hall, Director at Houldsworth Solicitors, explained why she wanted to take part: "My Auntie, Viv Cox was cared for at the hospice and I was so impressed by the care that she received that I wanted to give something back. We initially signed up to be one of the firms in the hospice Will Week, and then when the Corporate Challenge came up it seemed like an excellent way to continue our support."
The team embarked on a four month fundraising campaign that included an Elvis night, sponsored walk, various cake stalls, raffle, skydive and tough mudder.
Jennifer Quinn, East Lancashire Hospice fundraiser leader said: "We are absolutely blown away by the amount the team at Houldsworth's have managed to raise. What an incredible achievement. They have put in so much time and hard work and we are so grateful to them, and it is such a privilege to have their support.
"As a hospice we need to raised £3.8 million a year to continue to look after our patients, so businesses like Houldsworth Solicitors raising so much money for us is just so wonderful. They are a fantastic ambassador for the hospice and we are very much looking forward to working with them in the future"
On scooping the top prize Amanda said: "This was all done in memory of my Auntie, so I knew I had to win. If I could tell her now that we had won it she would simply say 'I am not surprised Amanda'."
We have had so much support from friends, family, clients and the local community. I would like to say a special thank you to Waddington Social Club members, the Lower Buck Waddington, Form Barbers Shop of Clitheroe, Lee and Deborah Cowking of Ribble Valley Cottages Waddington and James Warburton of James' Places.
The final total raised by the 25 competing companies in this year's Corporate Challenge was £61,508.95.
If your business would like to take part in next year's East Lancashire Hospice Corporate Challenge, get in touch with Jennifer Quinn 01254 287012.