Don it again for East Lancashire Hospice
Grandson of the late Don Ashton has been raising money for East Lancashire Hospice since 2017, by organising the Don Ashton Fell Race in Tockholes.
The race first started in 2017, when Calvin Ferguson, Grandson of Don Ashton, helped organise the race with Darwen Dashers. In 2018 Calvin took on the organisation of the popular race with support from many volunteers and local running clubs. The race was then established in honour of his Grandfather, Don Ashton.
Calvin chose to support East Lancashire Hospice after they provided care to his Grandfather. Calvin said, "I chose to support the East Lancashire Hospice as they offered such fantastic care for my Grandad in his later months - I was already aware of the Hospice and what they did but had no first-hand experience of this up until then. Darwen Dashers had already supported the Hospice through previous events in past years, but I decided to donate 100% of the proceeds to the Hospice - every penny from the entry fees, right through to the raffle tickets."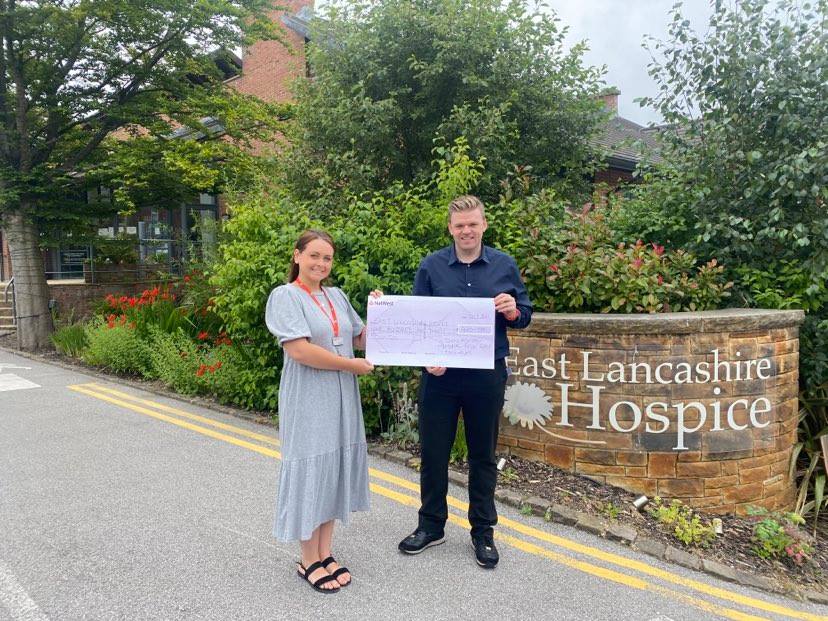 Unfortunately due to the lack of facilities available, the event this year had to be cancelled even after Calvin ensured the race was fully COVID-secure, with support from local businesses and 200 entrants ready to run. COVID rules meant that the organisational team had to have a pre-entry system in place rather than the usual entry on the day system they used previously. After the event was cancelled, they offered registered participants the choice of a full refund or to donate their fee to the hospice. Calvin was overwhelmed to see that the majority of people were so generous in donating their fee and a total of £920.00 was raised for East Lancashire Hospice, without the event even going ahead.
A very happy Calvin commented, "Everyone's support means a lot to us as a family - Don was a very popular person in the community, not just in the running world, and was known by many and is missed by us all. His success in Fell running is something that we are extremely proud of and to be a Champion at a National and International level is something many athletes aspire to be."
He continued, "We always aim to bring together the community for the memorial race every year, no matter what their abilities - we have people who are taking part as their first ever fell race and others who represent Great Britain in the sport, it's always a fantastic night with a great atmosphere."
"Supporting the Hospice is something we will continue to do through hosting the race. For me it is vital that charities such as the East Lancashire Hospice are funded strongly as they provide an invaluable service and care for those in need. We are grateful to our supporters and helpers, who make the race possible - Norman Walsh UK of Bolton, Pete Bland Sports, The Rock Inn at Tockholes and Tom Turner (Tockholes farmer), who all provide us with race items, services or other facilities that allow us to make the race happen - none of them asking for a single penny, which in turn, allows us to donate more to the wonderful Hospice."
Calvin has not only raised £920.00 for the hospice from the event this year (despite it not going ahead), he has also donated lots of chocolates and other items the hospice Income Generation team can use to generate more income.
Leanne Green, Fundraising and Lottery Lead finished by saying, "We are so proud of Calvin. His race has grown and grown every year and it is amazing to see that the community have still pulled together to help him raise money this year for a charity so close to his heart. On behalf of everyone at East Lancashire Hospice, I want to say a huge thank you to Calvin and all involved for raising this amazing amount and we can't wait for your event to be an even bigger success next year."