Supporting a charity that supports the community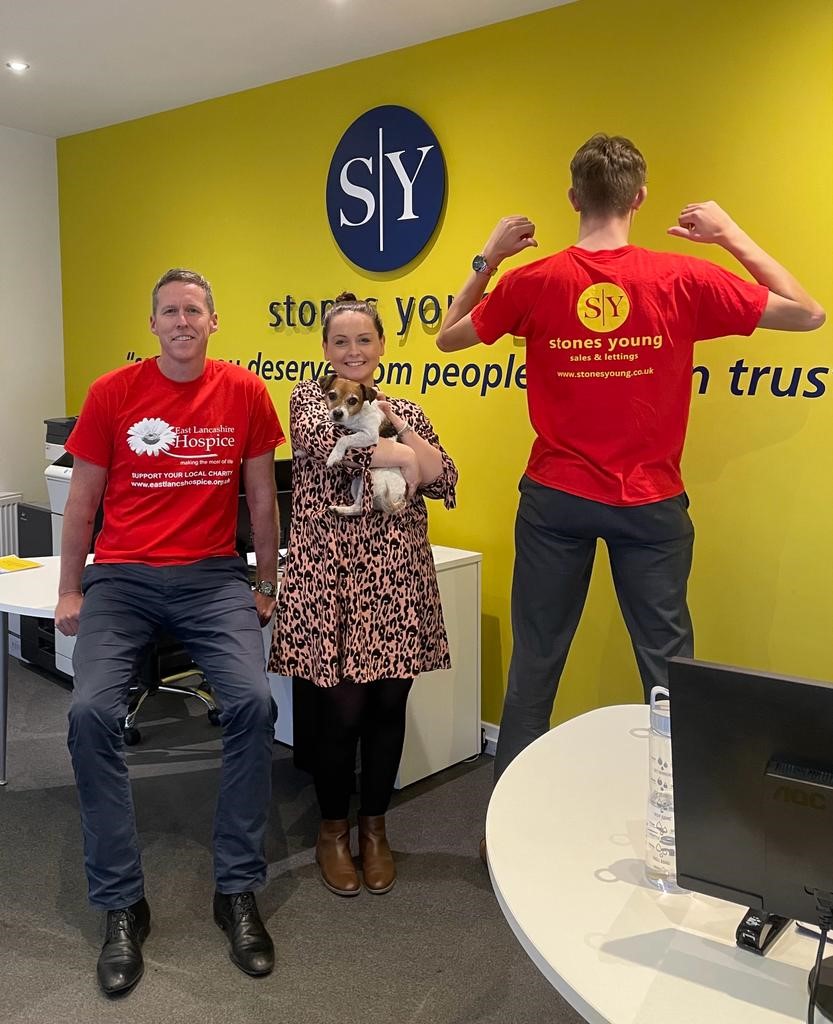 Stones Young Sales and Lettings Agency, based at Brownhill Blackburn and Moor Lane Clitheroe, are long-time supporters of the East Lancashire Hospice and are this year's headline sponsor of the charities red event t-shirts.
As a local charity, it is extremely important that the fundraising team at East Lancashire Hospice are noticed when out in the community and by doing this, their red t-shirts stand out and people begin to recognise the charity brand. These red t-shirts are worn by hospice staff and volunteers at events and when supporting fundraising activities to benefit the hospice, but they are also given to supporters when taking part in their own activities, such as; community events, runs, cycles, challenges and much more.
When Stones Young Sales and Lettings agency were approached by East Lancashire Hospice to be asked to be the headline sponsor, they saw this has an incredible opportunity, not just to link their company with a local cause, but also to show they give back and to a charity that is so close to many people's hearts. The local sales and lettings agency, have supported the hospice for many years, by choosing them as their charity, taking part in fundraising activities and also sponsoring some of their events.
The Stones Young logo now sits proudly on the back of over 700 red East Lancashire Hospice t-shirts and will be seen by our local community, which will not only help build hospice awareness but also promote a local company supporting a local cause.
The team from Stones Young commented, "Everyone knows someone who has benefited from the fantastic care provided by the East Lancs Hospice and as long term supporters Stones Young are delighted to offer further help by sponsoring the new volunteer t-shirts for the coming year."
Leanne Green, Head of Fundraising and Marketing at East Lancashire Hospice said, "We absolutely love working with local companies and when we are out their seeking sponsorship from businesses, it's really nice to know we can rely on those like Stones Young.
"All of our supporters feels so proud when wearing a red hospice t-shirt at their own fundraising activities and we are lucky to have these sponsored, which will help us to build on the awareness of East Lancashire Hospice and that we are the communities local hospice, but also to strengthen our corporate relationship with Stones Young."
East Lancashire Hospice are always looking at building new connections with businesses within Blackburn, Darwen, Hyndburn and the Ribble Valley. If you are a local business in any of those areas and looking at supporting a local charity, East Lancashire Hospice want to hear from you. Contact Leanne on – 01254 965874 to find out more.