Fine Dining with Café Retreat
Fine Dining Thanks to Café Retreat
Hilda and David Cook knew they were in for a special evening when they won their bid for a Private Fine Dining event whilst at the East Lancashire Hospice Good Times Ball held on the 27th November 2021 at the Mercure Blackburn Dunkenhalgh Hotel & Spa Accrington.
The prize was to host an exclusive dinner party in their own home for up to six people and the five star package involved a pre-event menu consultation which allowed Hilda and David to discuss their own personal tastes. Not only was all food included, but also wine to complement the meal choices. A front of house team accompanied the chef to ensure that Hilda and David's guests were free to relax and fully enjoy the experience, and of course not have to tidy up afterwards.
Lee Hyatt, Head of Catering at Café Retreat which is based in the East Lancashire Hospice, was their experienced and talented chef for the night whose background is fine dining with experience of working at award winning restaurants in the Lake District amongst other things.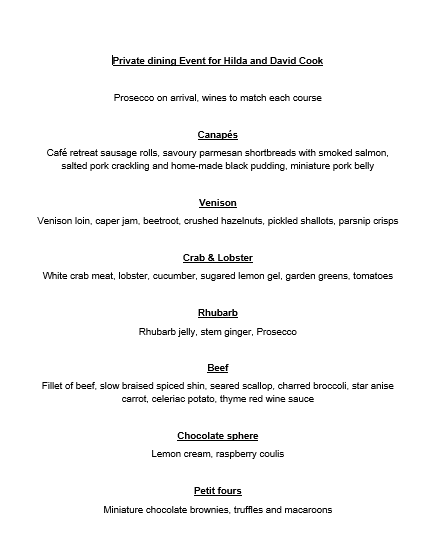 Hilda and her family chose the Valentine weekend for their special evening and Lee arrived at 3pm to make final preparations. Their dining room was dressed with white linen table cloths, flower arrangements, silverware and cut crystal. The ladies also received a red rose for the occasion.
The evening started at 6pm with pre dinner drinks and canapés and proceeded with a further five mouth-watering courses.
Lee Hyatt and his front of house team Emma Baldwin and Kay Robinson also donated their time on the night whilst a number of suppliers gifted ingredients and tableware to make the occasion special for the guests.
Lee enjoyed preparing a bespoke menu and would like to recognise his suppliers for their generosity, including The Plough Oswaldtwistle; Whittakers Butchers also from Oswaldtwistle; Abbey Street Catering for the free hire of the tableware, glassware, silverware and crockery; Franco's of Oswalsdtwistle for the selection of wine; Sugar Stealers for the flowers and table arrangements, and Farnworths for sausages used in the canapés. These kind donations of time and produce ensured more of Hilda and David's auction bid of £950 went directly to patient care at the Hospice. Hilda said of the evening "It was a very unique experience and we will be talking about it for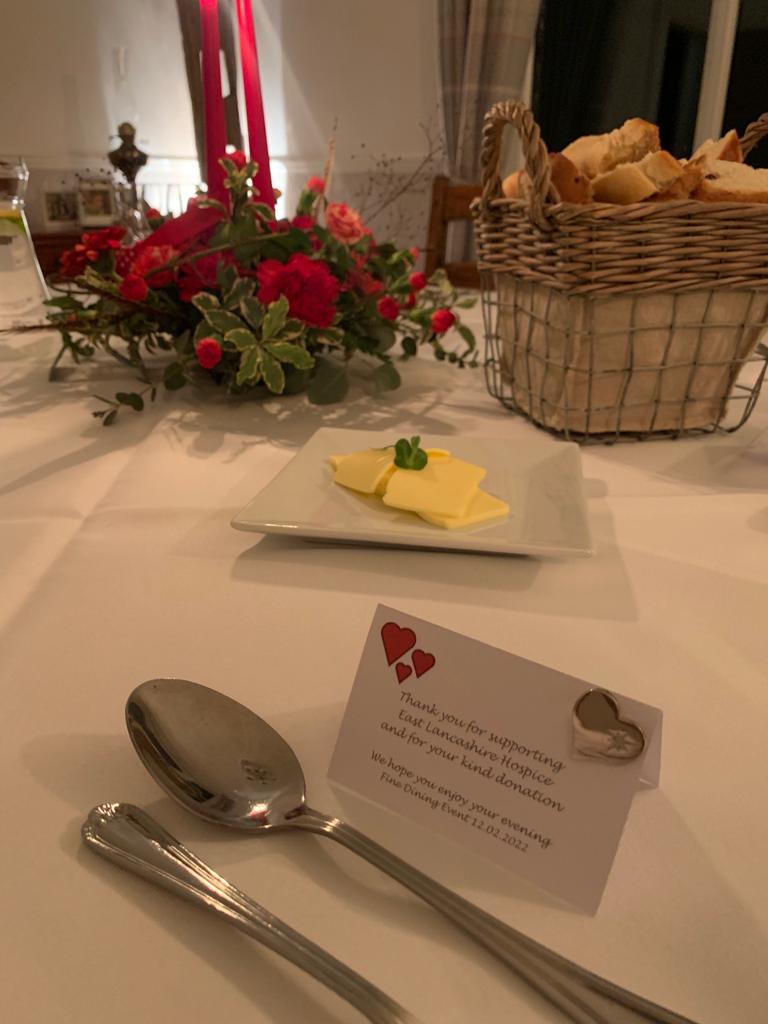 some time, the red roses were a lovely touch for the ladies especially with it being Valentine's weekend."
Lee added, "This was a real pleasure, so much so, I would like to raffle another private fine dining event this summer, with the same level of service and attention to detail."
East Lancashire Hospice would also like to thank Hilda and David Cook for their generosity at the Ball, and hope they enjoyed the evening as much as Lee and his team.