Opening the doors for East Lancs Hospice
Darwen based Pendle Doors, a UK door manufacturing company, recently confirmed a new 3-year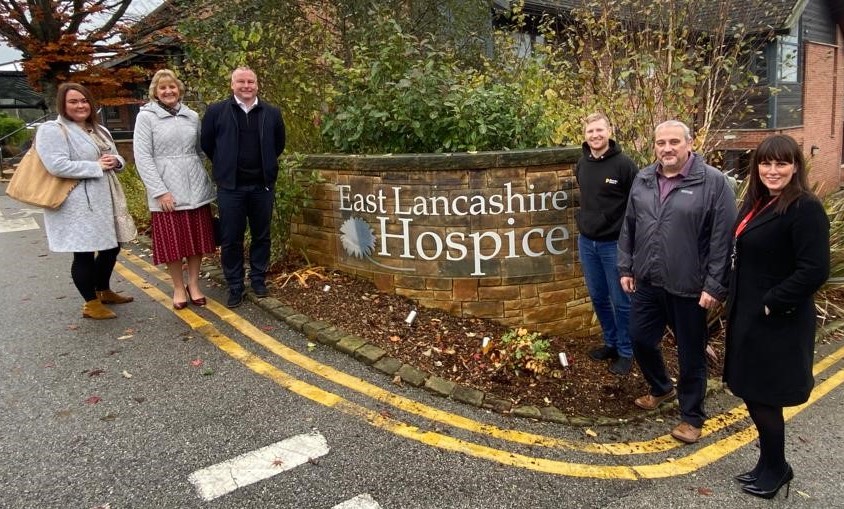 charity partnership with East Lancashire Hospice
Established in Burnley in the 1950's before relocating to Blackburn in 2007, Pendle Doors is a family run business employing over 40 members of staff from the local area.
The decision to commence this exciting new partnership with the hospice came after consultation with Pendle Doors employees, many of whom have first-hand experience of the hospice services and felt passionately about wanting to support East Lancashire Hospice.
The team are aiming to undertake one fundraising initiative every month and have already had their thinking caps on with ideas such as undertaking a Skydive, joining the hospice lottery and participating in the 'East Lancashire Hospice 2022 Corporate Challenge' all on the list.
In addition, company Directors, Steve, Sue, Ryan, Ian and Darran have kindly offered their services to undertake health & safety checks on all fire doors within the hospice building, manufacture wooden items for use around the hospice, including planters for the garden and donate gifts for fundraising events. All members of staff have also been offered the opportunity to volunteer at the hospice for a day a year, funded by the company.
To further cement the partnership and raise the profile for East Lancashire Hospice in Blackburn, Darwen, Hyndburn and the Ribble Valley and beyond, Pendle Doors will be adding hospice branding to their company HGV.
Ryan Anderson, Operations Director for Pendle Doors said "Like many local businesses we are proud to be based in East Lancashire and employ a local workforce and as a team we wanted to be able to give something back to the people of our local community. We are aware that some of our colleagues have been supported by the hospice and when we asked them who they would like us to support, the decision was unanimous!".
Katie Elliott, Fundraising and Marketing Lead for East Lancashire Hospice said "We are absolutely delighted that Pendle Doors have chosen to support the hospice by way of a charity partnership. It has been an absolute pleasure getting to know the team and if our initial discussions are anything to go by, there are exciting times ahead! From everyone here at the hospice we would like to say a huge thank you to Steve, Sue, Ryan, Ian and the whole team for their support which means so much to us all.