Restricted Forest
A young Darwen woman has joined forces with the organisers of an outdoor festival to raise money for a charity close to her heart.
Caitlin Jones, 21, got in touch with the organisers of the Restricted Forest Festival and agreed a charitable link up to benefit East Lancashire Hospice.
The young woman vowed to help other families after losing dad Nigel to lung cancer two days after her 12th birthday in February 2008.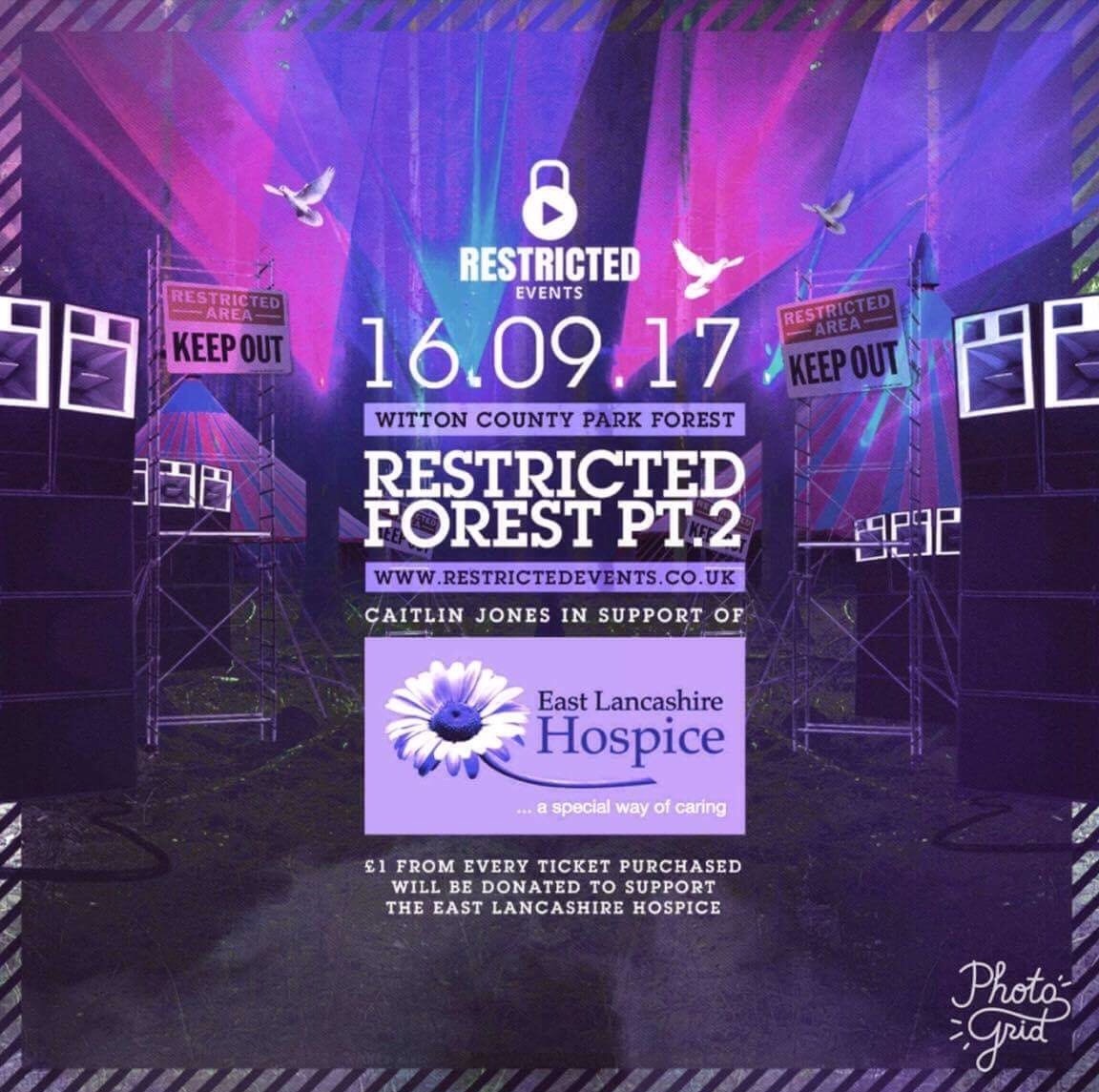 The Restricted Forest Festival, which will be held on 16 September, will take place in the woodland at Witton Park, Blackburn and will feature well-known DJs from the house, tech and dance world, as well as performers and exhibitors.
This May saw the inaugural event attract 1,500 party goers. This year, father and son duo Paul and Zander Lawrenson, also from Darwen, hope to double that figure as the festival returns bigger and better.
After spotting the event on Facebook and realising the local connection, Caitlin met with the pair. The two men kindly agreed to donate £1 for every ticket sold to the hospice, and allow bucket collections on the night.
Although Nigel never came to the hospice, the family were contacted by Sharon Crymble, fundraising manager at the hospice, offering Caitlin counselling.
Caitlin said: "I wanted to do something big because it's coming up to the 10th anniversary of my dad's death. This event is something my dad would have loved. He really enjoyed this sort of music.
"I have been fundraising since my dad's passing and it has helped, and allowed me to talk about him. It doesn't feel like 10 years ago since he died."
Music fans Paul and Alex, 25, who travel to festivals across the country, decided to invest the profits of their resin driveway business Classy Driveways Ltd business into hosting a festival – which was met with rave reviews.
Among the fundraising activities, Caitlin has previously arranged a children's show at Darwen Library Theatre, a curry night, auction, was starter for the Race for Life in Blackburn and carried the Olympic Torch.
So far, she has raised around £28,000 for cancer charities, including about £18,000 for East Lancashire Hospice.
Caitlin said: "This event is about Darreners supporting Darreners, and bringing smiles to people's faces."
Caitlin and mum Tracy are also hosting another event in February 2018 with well-known crafter Jodie Johnson.
Tickets to Restricted Forest are priced £20-£25. It opens at
1pm and runs until 11pm. To book, click here
https://­www.­skiddle.­com/­festivals/­restricted-forest/