Running 10k to raise £100k for East Lancs Hospice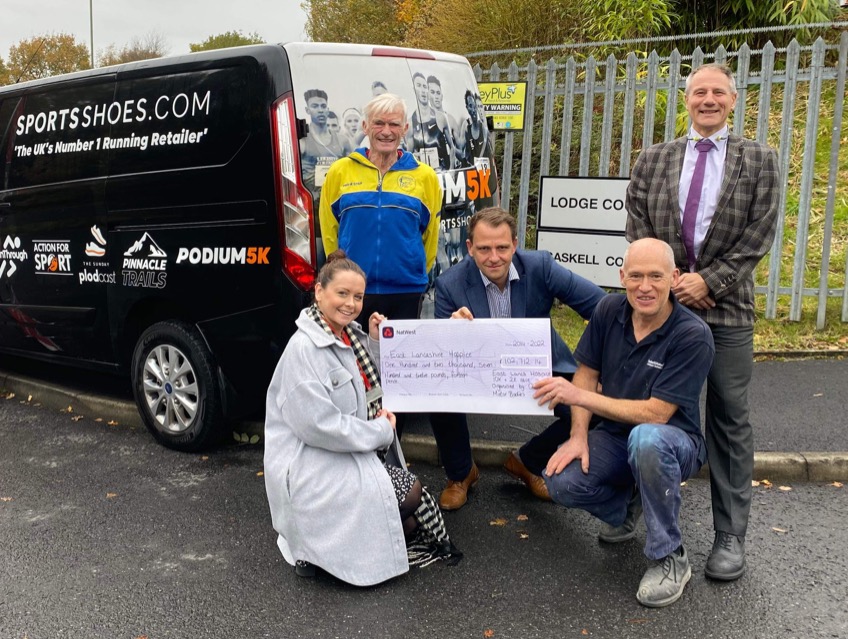 The East Lancashire Hospice 10k first started in 2014, when Nick and Louise Gaskell, owners of Gaskell Motor Bodies Great Harwood set the event up to benefit the people in our community suffering with a life-limiting illness.
The popular local race is one of the first held every year in the running calendar and takes place every January. Since it first started in 2014, Nick has raised the profile in the running world, promoting at park runs across East Lancashire and spreading the word to running clubs as far as Manchester.
Events like these do not just happen with one or two people organising it. It takes real team effort and that's when Chris Knagg, hospice supporter and volunteer also got on board and used his health and safety skills and knowledge to help with the route and logistics of the event. The team of Nick, Louise, Chris and the hospice have really driven the event over the years and each year has grown massively.
Nick Gaskell commented, "I am a keen runner myself and so when I thought of organising this race, it was a no brainer to do it for East Lancashire Hospice. The doctors and nurses at the hospice do so much for our community and to know this event can help raise the money needed to run the services, makes me feel proud of how successful it has become."
Over the last 8 years, the East Lancashire Hospice 10k has raised in total, £102,712.14 for patients in the communities of Blackburn, Darwen, Hyndburn and the Ribble Valley.
Since the very beginning of the event, Freudenberg, a global technology group, with a site in Great Harwood, have been corporate supporters. From sponsoring the event t-shirts, entering teams to race and also sponsoring the prizes, they have shown great support to East Lancashire Hospice.
Phil Rycroft, a keen runner himself and Operations manager at Freudenberg in Great Harwood said, "We have been part of the community for over 80 years and have been part of the East Lancashire Hospice 10k since 2014. It's an event we really love helping with and this year we are proud to be co-sponsoring the t-shirts with Gaskell Motor Bodies."
Thiago Spellmeier, Site Manager at Freudenberg Great Harwood added, "This site, formerly known as Metflex, was taken over, in 2017, by Freudenberg, a family company driven by values and principles; protecting the environment and being responsible corporate citizens in all countries and communities in which Freudenberg do business. By sponsoring and being part of this event, we are able to support our community."
The East Lancashire Hospice 10k will be taking place on Sunday 15th January 2023, starting and finishing at Gaskell Motor Bodies, Great Harwood. Registration for this event is now open and places can be booked via the hospice website – www.­eastla­nc­shos­pice.­org.­uk or calling the fundraising team – 01254 965875.
This year's event is set to be the biggest one yet, with local running superstar Harry Hazeley setting off the race at 11am. Harry has been part of the running world most of his life and is currently the president of the Accrington Road Runners and the North Lancashire Road Club and has run 129 marathons in his life.
Leanne Green, Head of Fundraising and Marketing at East Lancashire Hospice finished by saying, "The hospice 10k is a huge event in our calendar, one that has a lot of interest from our supporters. It is such a great day and it's so nice to see so much support, not just from the participants, but also the local businesses whom really get involved.

"Nick Gaskells and Chris Knagg work so hard on organising and on the day we have support from; The East Ribble District Freemasons, Whittakers Butchers Oswaldtwistle, UK Timers, Sports Shoe and Universal Cooling.
"It really is a team effort and one that's done because all the individuals who help out do it for one purpose – East Lancashire Hospice, and we will be forever grateful that as a local charity we seek the benefits of this fantastic event."