Sunflower Memory Garden 2022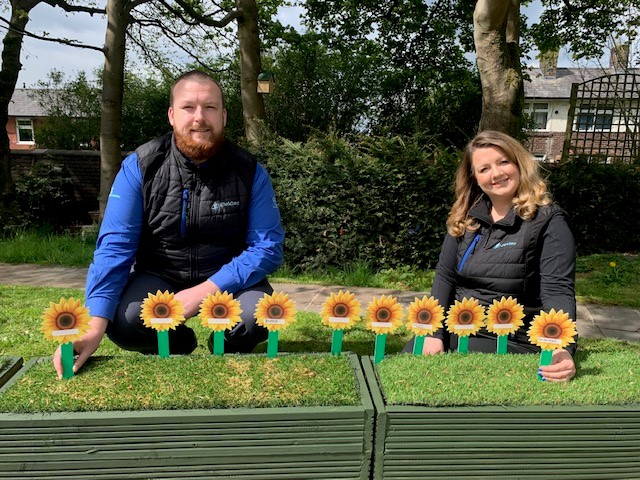 Long term hospice supporter Elektec, Electrical Contractors from Darwen, have announced that they will be again sponsoring the East Lancashire Hospice Sunflower Memory Garden for 2022.
The Sunflower Memory Garden, which takes place every year at the hospice, is an important event on the calendar and offers supporters the opportunity to pay tribute to a loved one throughout summer. In return for a donation, supporters receive a beautiful wooden sunflower plaque bearing the name of their loved one or alternatively there is the option to place it in the hospice garden.
New to this year, East Lancashire Hospice will also be hosting a Sunflower event in the hospice gardens on Sunday 10th July. The event is an opportunity for supporters and family members to come together, celebrate the life of loved ones and to visit their personalised sunflower plaque. The event with start at 2pm and involves beverages and sweet treats from Café Retreat, singing from Hippings Methodist Primary School, Oswaldtwistle and Scarlet Dickinson. As well as music from Play It Forward Brass Band and poems from Elektec.
Charlotte Knowles HR & Finance Manager for Elektec said, "Elektec are so pleased to be sponsoring the sunflower appeal again this year. The services that the hospice provide are so important for our community. We have an absolutely amazing relationship with all of the Hospice staff and try to support them wherever and however we can. Our team are currently taking part in their 2022 Corporate Challenge too. This sponsorship also offers a particularly special connection for me as Sunflowers are my favourite flower and were used in my wedding bouquet"."
Ann Mason, Individual Giving Fundraiser for East Lancashire Hospice said, "We are delighted that Elektec have agreed to sponsor our Sunflower Memory Garden again, their support is so important to us and we are proud of the relationship we have built. By partnering with such a key business in our local community, we are able to further raise the profile of the event and the hospice".
She continued, "To have the opportunity to host an event for our supporters in the garden is something we are extremely excited about, especially as we have only just started back with our full events calendar after the pandemic."
If you would like to dedicate a sunflower plaque in memory of your loved one, or to attend the Sunflower event, please visit East Lancashire Hospice's website – www.­eastla­nc­shos­pice.­org.­uk or alternatively you can call the fundraising team on - (01254) 965877.