Thank you Farleys!
A Blackburn solicitor has given East Lancashire Hospice a helping hand by presenting them with a bumper cheque for £1,265.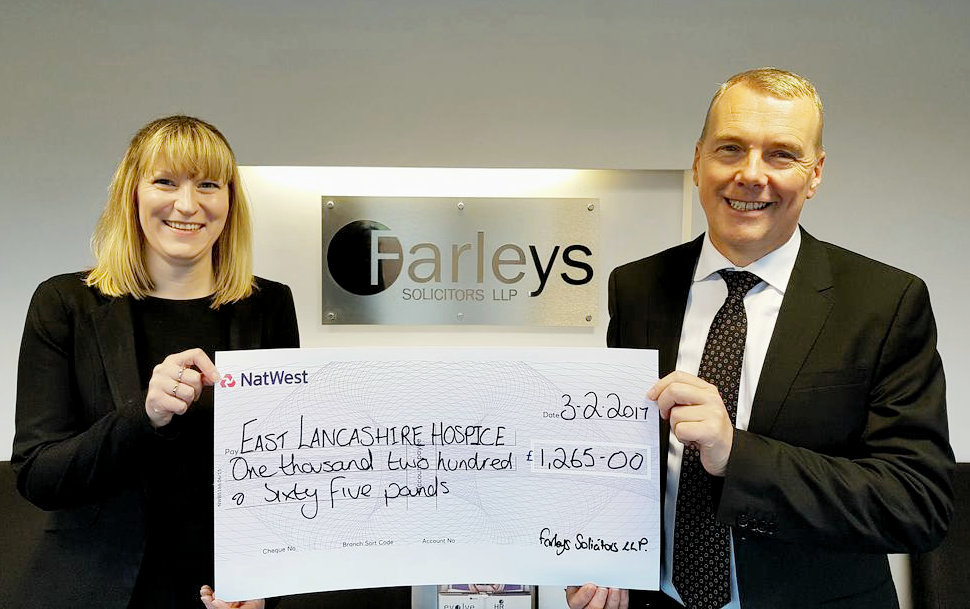 The money, which will help to provide care for local people who are coping with a life-limiting illness at a time when they need it, was the result of Will Week.
Farleys Solciitors, who has taken part in the charitable scheme for 6 years, writing wills for clients in exchange for a donation to the hospice.
Phil Taylor, Partner, said: "East Lancashire Hospice is an incredible place, doing amazing work for patients and their families and we are delighted to participate in their Will Week.
"It's a great opportunity for our team to come together in support of a great cause and use our skills to raise much needed funds."
Denise Gee, fundraiser at East Lancashire Hospice, collected the cheque.
She said: "We would like to say thank you to Farleys Solicitors for their continued support, and express our sincere thanks to everyone who has donated towards the hospice.
"Not only does making a will help to provide peace of mind for you and your family, your donation is also helping to care for patients with life-limiting illnesses in Blackburn, Darwen, Hyndburn, and the Ribble Valley."