The force is strong for East Lancashire Hospice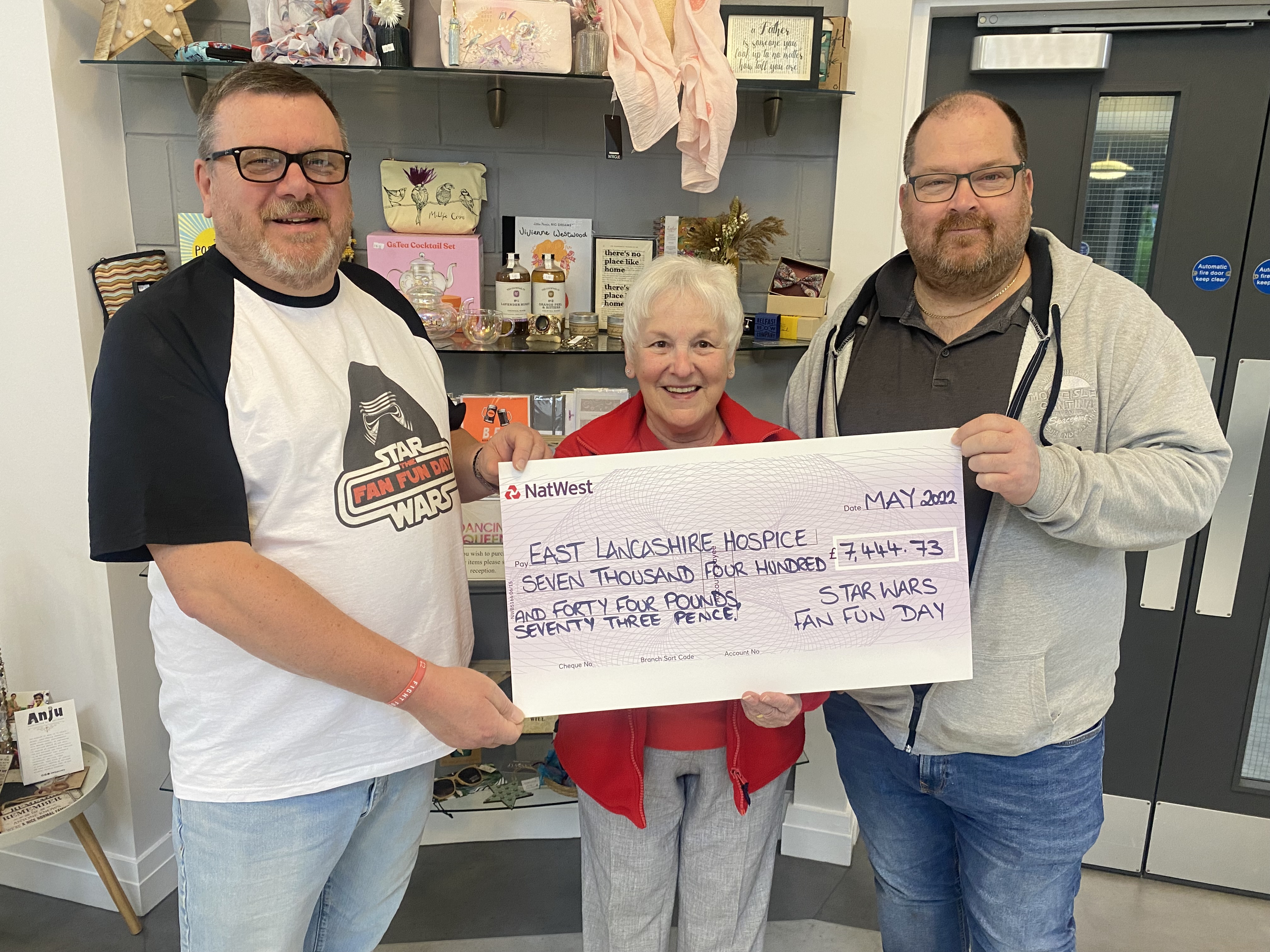 On Sunday 8th May 2022, a Star Wars Fan Fun Day was held at Blackburn Rovers for Star Wars fans across the country and overseas to come together and enjoy a day of meeting the characters, seeing the merchandise, as well as playing themed games and supporting local charities.
Neil Livesey, from Rishton and organiser of the Star Wars Fan Fun Day has been organising events like this for many years, with East Lancashire Hospice being a chosen charity since 2009.
The Star Wars Fan Fun Day is a huge event in fans calendar and is well attended each year. The day saw lots of fans taking advantage of what was on offer and raising money for charity. The day overall raised £9694.73 with East Lancashire Hospice receiving a generous cheque for £7,444.73.
Neil commented, "It's always such a great event to organise. It takes a lot of work but when we are handing over cheques of this amount and knowing the difference it makes, it's definitely worth the work."
He continued, "The day was absolutely fantastic, for me it doesn't feel like a lot to do because I enjoy doing it. I get a lot of pleasure from organising it, with friends as well. We've raised over £34,000 for East Lancashire Hospice now, which makes me feel incredibly proud!"
Leanne Green, Head of Fundraising and Marketing said, "We cannot thank Neil and the team enough for their continued support. For putting on this event every year since 2009 to support the hospice really means so much to not only our patients and their families, but to our staff and volunteers. We would just like to thank everyone involved in making this event such a huge success."
If you are a Star Wars fan, the Star Wars Fan Fun Day is held every May with lots going on. Keep your eyes peeled on the facebook group – StarWar­sFan­FunDay to find out more.