Walking boots and pint glasses at the ready!

Walking boots and beer will be on the cards as hundreds of charity walkers descend on the Ribble Valley this Summer.
Individuals, families and work teams are among those already registered for the 2nd annual East Lancashire Hospice walk taking place in June. Organised in conjunction with the Rotary Club of Ribblesdale, the 10-mile walk will be marshalled by Rotarians and helpers as entrants make their way across some of the Ribble Valley's impressive countryside to raise hospice funds.
Around half a dozen staff from Herbert Parkinson in Darwen, who make products for John Lewis have already pledged their support to the walk, and they hope to enter a team of over 20 in total.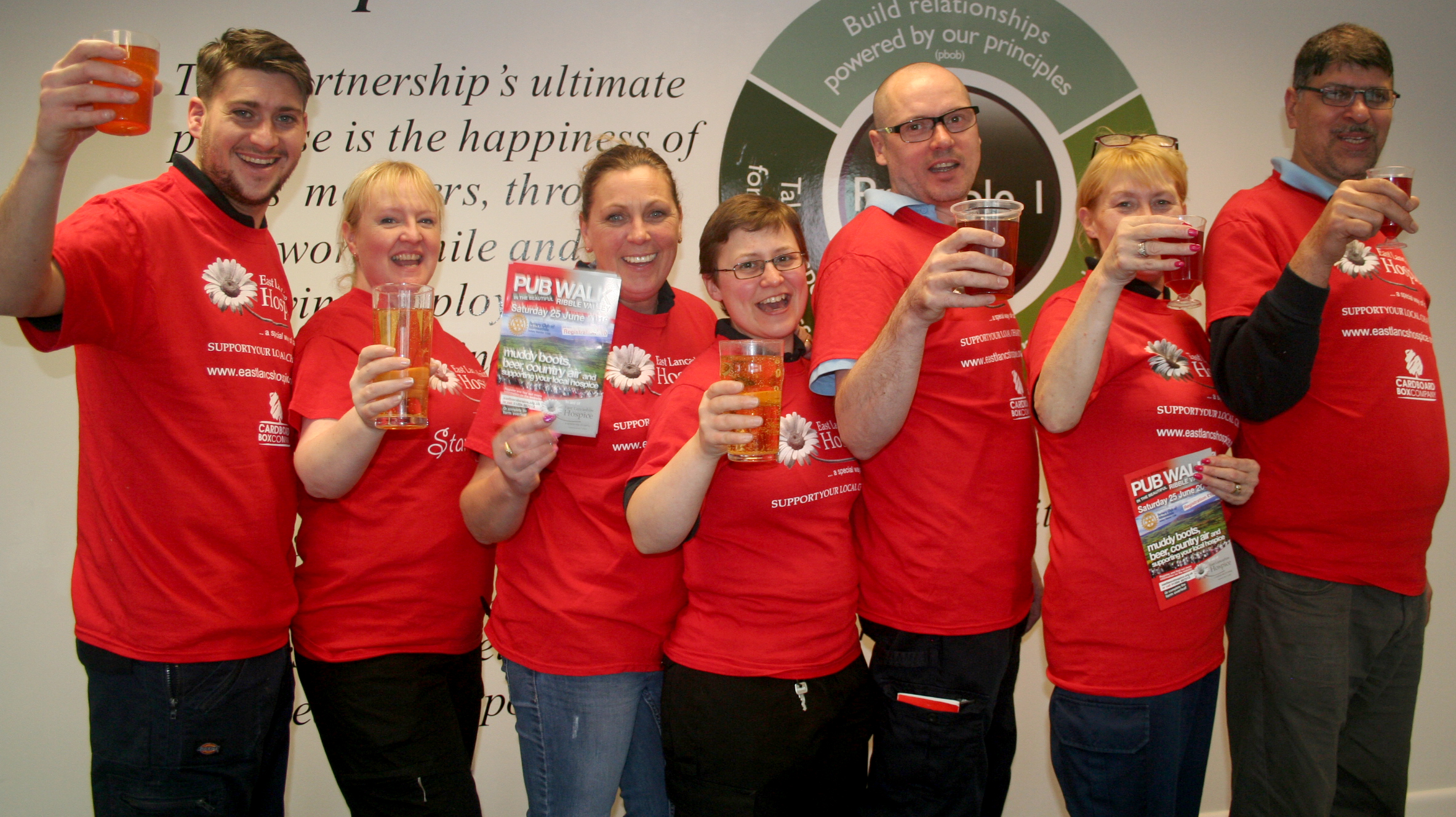 Gillian Walsh said: "We're taking part as the Herbert Parkinson team. The hospice is our chosen charity for the year so everyone knows about the work the hospice does. And we like the sound of a pub walk!
We have already started our fundraising for the hospice by collecting crème eggs which they sold with knitted chicks at Easter and have much more planned as well as raising sponsorship through the pub walk. We're really looking forward to it!"
A team made up of staff from Pentland Distribution, based in Blackburn have also joined scores of people who have already signed up for the walk.
Administration Clerk Gail Pass said: "The culture we work in is charity focussed with give back days and fundraising activities which we have done for the hospice. For some it's more personal they have had close links with the hospice. We are encouraged to have a team get together in the summer and we wanted to do something different. Because of the fun factor and the cause the team are excited to be part of it. I think doing it together as a team, hopefully the weather will be nice and it's just a good way to spend time together out of work, raising money for a good cause and having fun along the way!"
The walk takes place on Saturday June 25 and begins at Whalley Village Hall. The route takes entrants through Mitton and across the Ribble Valley countryside before emerging in Billington and back into Whalley where the walk concludes. Entry is £10 per person and includes an exclusive t shirt.
Register now online or call 01254 287011.