Carole's Charity Corner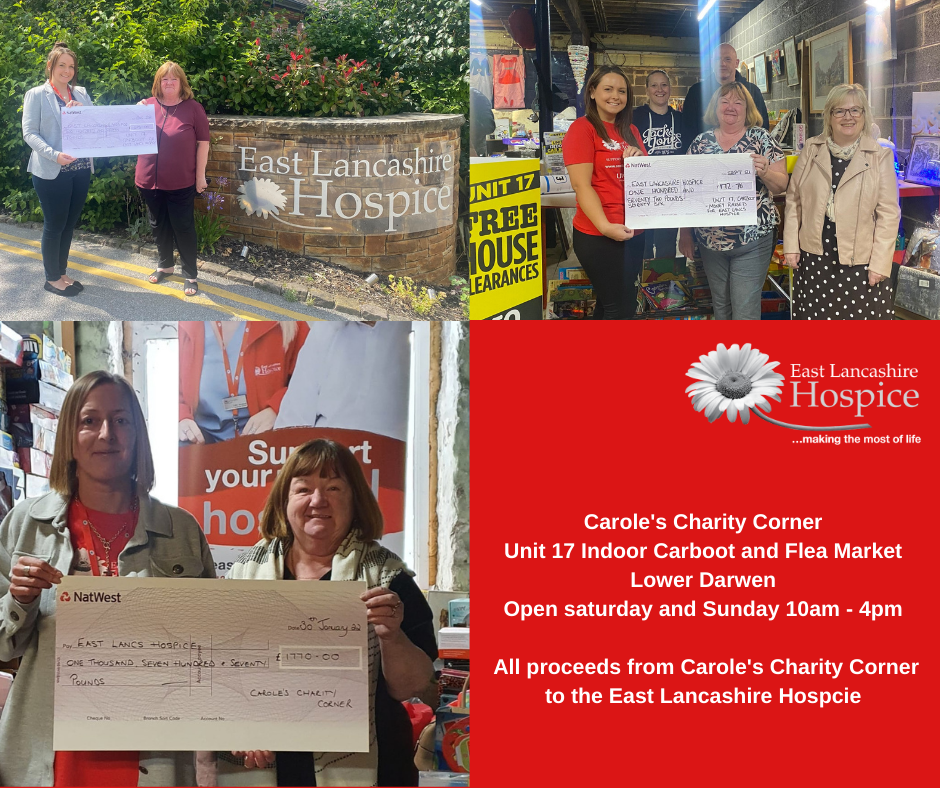 Carole Knowles from Knuzden, has been raising money for East Lancashire Hospice since July 2021. Carole has a stall at the Unit 17 indoor Car boot and Flea Market in Lower Darwen every Saturday Sunday with all proceeds raised from her charity corner going towards raising money for patients and their families who are cared for by the hospice.
When the Car boot and Flea Market first opened in 2021, Carole contacted the proprietors to ask if she could have a stall to benefit East Lancashire Hospice. They were fully behind the idea and even donated her a corner to use free of charge, as well as supporting her towards raising vital funds for the charity.
Carole donates her own time in running the charity corner, along with friends at the venue helping, with donations coming to her from the local community. When asked why she chose to do this for the East Lancashire Hospice, she replied, "I chose to do this charity stall because of the amount of people, including very close friends and colleagues being helped through very difficult times by East Lancashire Hospice. They are an amazing bunch of people."
Since July 2021, Carole has had an amazing following by people in the community who have supported her, as well as those who run the Unit 17 indoor Car boot and Flea Market.
Carole commented, "We all work as a team at the Car boot, if I am absent from my stall I know I have confidence in someone else supporting me and helping me. The Car boot is so friendly and no matter who walks through the door, they are made to feel welcome by everyone. People think that that we just sell used items, but that is far from the truth. We have goods and clothing donated that are new, still tagged and bagged. There are some amazing hand-created stalls there and all find their own way in contributing in helping us raise money for the hospice."
Carole works hard in ensuring the Car boot and charity corner is constantly being promoted and is currently running a raffle, with a chance of winning a 10 item Blackburn Rovers bundle for just £1 a ticket. The draw will take place on Sunday 27th February at 3pm. All proceeds from the raffle will be donated to East Lancashire Hospice and can be purchased at the Car boot.
In less than one year, Carole and friends at Unit 17 Car boot have raised over £2,000.00 for East Lancashire Hospice. The Unit 17 Car boot and Flea Market, based in Lower Darwen is open every Saturday and Sunday, 10am – 4pm. Everyone is welcome to visit and are even offered a tea or coffee on arrival.
Jackie Morris, Fundraising Assistant at the East Lancashire Hospice finished by saying, "Carole and all at Unit 17 Car boot are such amazing supporters of the hospice. Since the pandemic hit in 2020, it has been really difficult to fundraise. It is amazing to hear how people are going above and beyond to ensure money is being raised for patients in our community."