Date nights at Cafe Retreat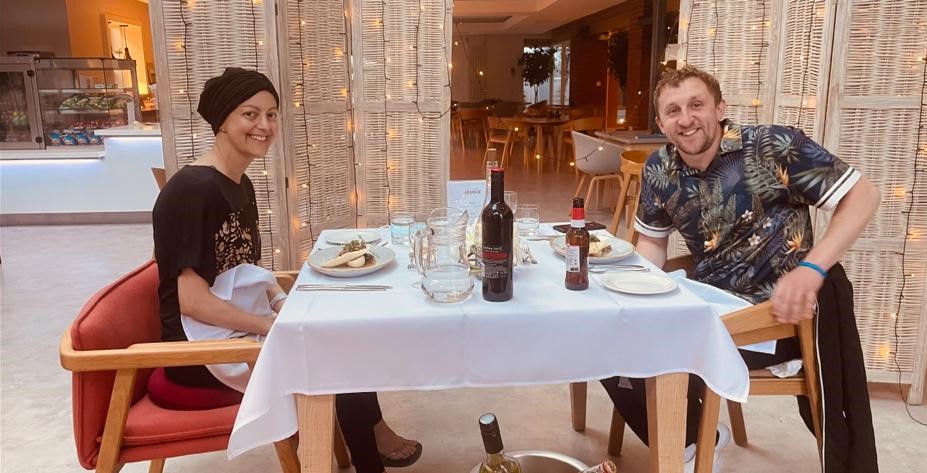 Jasper the therapy dog went in to visit Louise Child during her care at East Lancashire Hospice.
Louise was admitted to East Lancashire Hospice on the 29th April after the family discovered the hospice would allow Louise the freedom to stay near her family who lived in Feniscowles and avoid the long and arduous trips to the Christie. Louise was able to come and go as she pleased, set up a playpen for her young son in her room to make it feel homely, and enjoy the hospice gardens with her family.
Louise had discovered she was suffering from Acute Myloid Leukaemia near the end of her pregnancy with her youngest son. The shock to the family was immense, and naturally, none of them saw it as a battle she would lose.
Despite her illness, and with the support of her family, she started to raise funds for a number of charities, including Mummies Star, a charity that helps families with cancer and young children, Antony Nolan, the stem cell charity, and BlueSky at Blackpool; charities that were helping her battle against her diagnosis. When Louise arrived at East Lancashire Hospice, she was struggling with her condition, but had still not given up and was still supporting the charities which had supported her.
Unfortunately, Louise lost her battle on 8th June 2022.
However, her stay at the hospice allowed her family to visit at times suited to them and for her to enjoy the complementary therapies, which went some way to alleviate her symptoms. Her father, Martin Child was able to tell us the difference the hospice made to his daughter's life. "Louise received wonderful help, care and support from all the staff at the Hospice. The staff were also very helpful and kind to my wife Jackie and myself, and we were able to visit Louise whenever we wanted. I cannot thank you enough for helping us through a very difficult and stressful time."
The hospice were intent on making her time matter; they helped Louise create a memory box with our Creative Connections team for her family to keep; supported her family trips to the beach; and organised a date night in Café Retreat for Louise and her partner. When the rest of the hospice was closed, the Café opened, giving the couple a chance to enjoy an evening together as if they were at a restaurant.
The young mum would have celebrated her 41st birthday on the 12th July, and her family and friends used the occasion to support those charities that supported Louise, raising over £3,600 for East Lancashire Hospice in Louise's memory.
Louise was only with us for six weeks, but we hope we made a difference to her wellbeing, and gave Louise more precious time to be with her family, and helped her in making the most of life.