Turning cardboard into cash
Smurfit Kappa, situated on Whitebirk Industrial Estate Blackburn, have raised an incredible amount for East Lancashire Hospice after setting up a cardboard recycle scheme in 2017.
Smurfit Kappa chose to support East Lancashire Hospice back in 2017 by situating two skips at the front of their gates for members of the public to recycle cardboard to benefit the hospice.
From the launch of the scheme 5 years ago, the company have raised £14, 638.58 and donated to the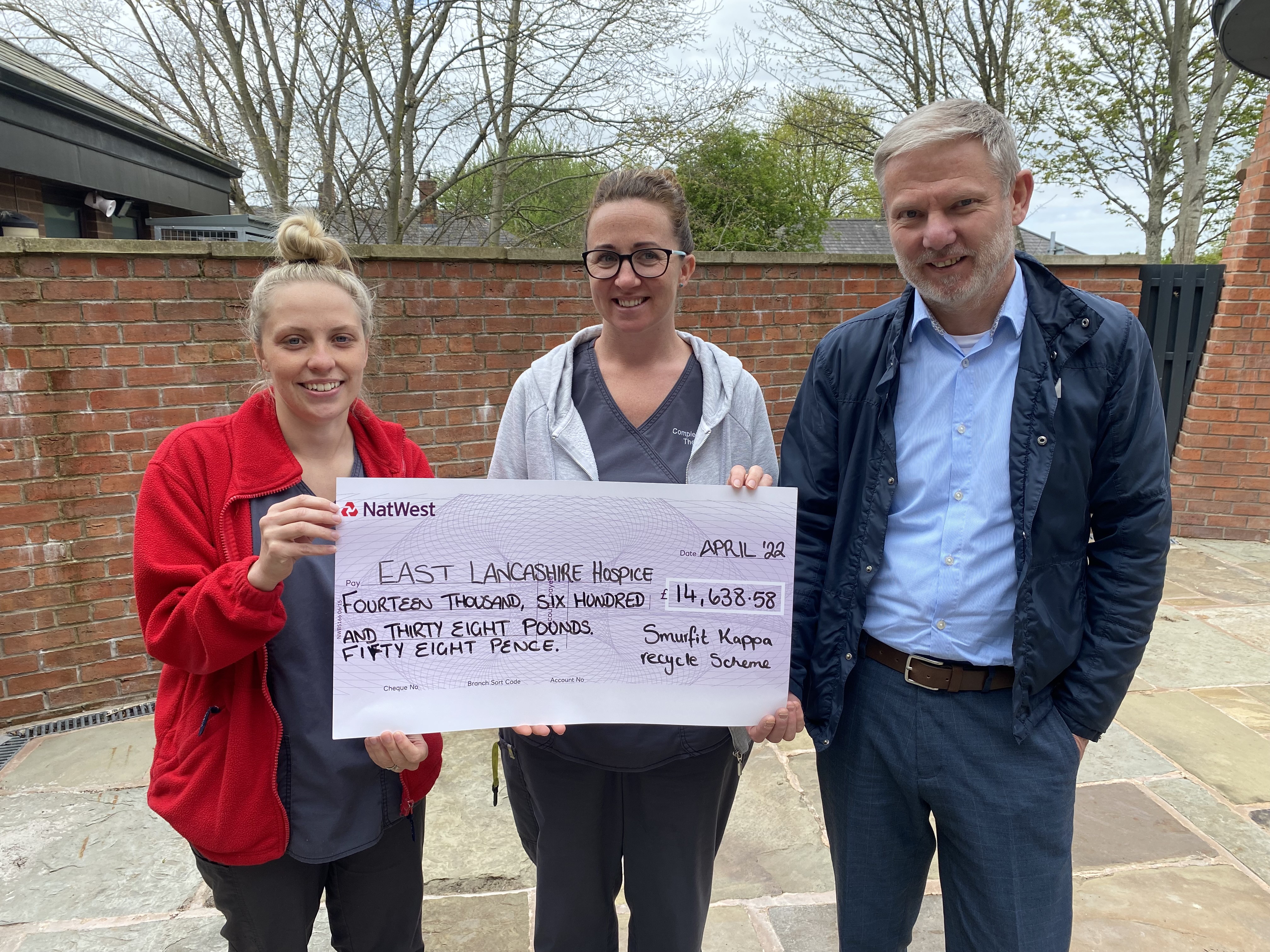 hospice and their shops. This money is a fantastic amount and helps support patients in Blackburn, Darwen, Hyndburn and the Ribble Valley suffering with a life-limiting illness.
Gavin Smith, General Manager at Smurfit Kappa said, "My father was cared for by a hospice in Hull, before this I knew what a hospice was, but not much understanding of what they do. My father was in the hospice for only a short time and as a family, we were amazed by the care he received and the support they gave to us as a family."
He continued, "It is important businesses show their support to the local community and to know that we are helping making a difference to the services East Lancashire Hospice offer to their community is fantastic."
The scheme works by people in the community being able to drop off cardboard at Smurfit Kappa, Whitebirk and empty into the two skips provided and clearly marked with the East Lancashire Hospice logo. These skips are placed outside the main gates, giving people the opportunity to unload out of operating hours. Once the skips are full, Smurfit Kappa weigh the amount in the skips and make a generous donation of £35 per tonne to East Lancashire Hospice and their shops.
Leanne Green, Fundraising and Lottery Team Leader at East Lancashire Hospice said, "It costs £4 million a year to run the services we offer to our patients and their families, this equates to £11,000 a day. It's amazing to see that Smurfit Kappa have supported in raising over £14,000 for the hospice and the amount supports the services for over a day. We are keen to let everyone know about the recycle scheme and to take advantage of it to benefit the hospice. The partnership we have with Smurfit kappa is incredible and we are extremely grateful for their ongoing support and dedication."
If you would like to start using the recycle cardboard scheme at Smurfit Kappa, please drop any used cardboard at their Blackburn base, found on Whitebirk Industrial Estate, Croft Head Rd, Blackburn BB1 5SW.