Forbes Solicitors raising money through Will writing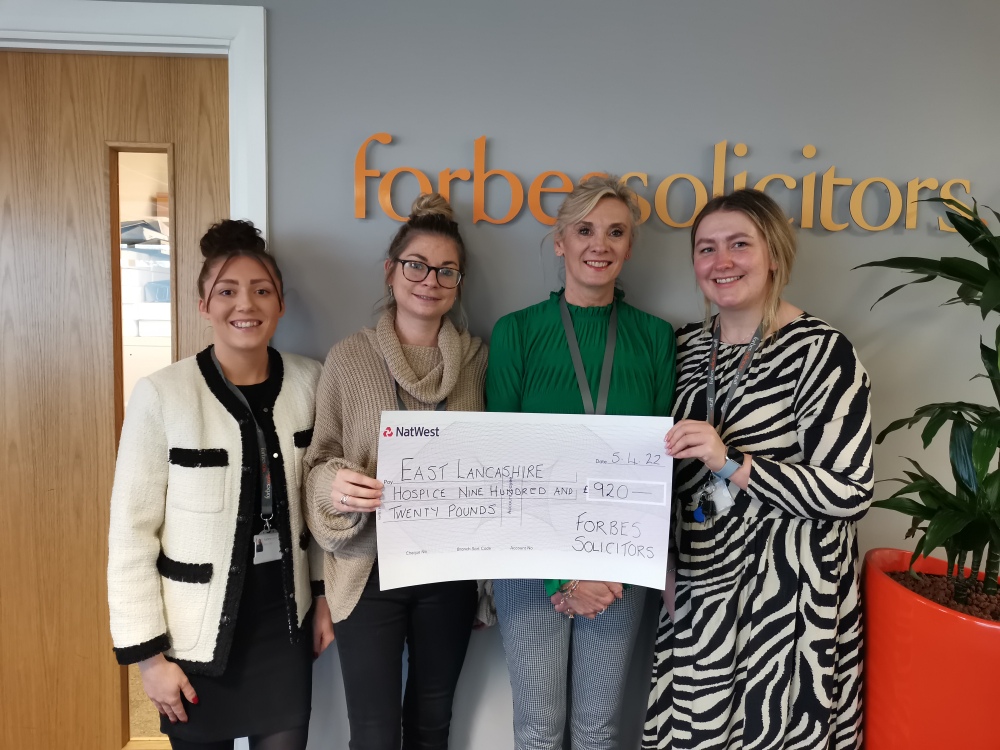 Many people put off making a Will for many different reasons such as, not getting round to it, don't need as they are young, it will be too difficult to do, it's hard to talk about, or even that it's tempting fate, but the reality is, if you want to ensure the things you treasure most are going to the place or/and people you want them to, it's important to take the step to do it.
Hospice supporter Kate Wilson was one of those people, who had it on her 'to do' list for years, especially after she had bought her own home, but never actually took the plunge until she saw the East Lancashire Hospice Will Week promoted on social media.
Kate said, "Because of my age I didn't think I would need to make a Will, but then a friend mentioned that anyone who has a house should have one so that if something should happen to me, my wishes would be carried out. This also includes things like who would look after my dog.'
'I had been putting it off for so long, but when I saw it promoted that the Will Week would also benefit East Lancashire Hospice, a charity I have personally supported for many years, it then seemed the perfect opportunity, so I chose Forbes Solicitors from the list. I had previously bought my house with them and will now use Forbes going forward should I need any advice.'
'I thought it might be difficult to discuss but the solicitor made it very easy and not at all depressing. They made the whole process very easy from start to finish and talked me through all my options.'
I took the basic Will option as this was the one offered in the Will Week scheme, and it was more in-depth than I thought it would be and suited my needs entirely. The solicitor made suggestions that enabled me to 'layer' my Will so I don't have to keep altering it dependant on what happens in the future.'
'It's really not about the value, it's about me knowing my wishes will be carried out and a letter of understanding has been written to my chosen executors, which explains things like who you want to take care of your pets.'
'It's now put away and forgotten and it's a huge weight off my shoulders as it's always been a nagging thought at the back of my mind.'
'I feel like it's the most grown up thing I have ever done and I would definitely recommend those who do not have a Will to stop putting it off until tomorrow, do it now, and especially if the Hospice are going to benefit from a donation at the same time too – it's a win, win situation."
By taking part in this year's Will Week for East Lancashire Hospice, Forbes Solicitors have raised an incredible £920.00 for patient care. They have raised this money by wavering their standard Will writing fee in Janaury, in return for a donation to the hospice.
Jane Burbidge at Forbes Solicitors commented, "Making a Will is the surest way anyone has of providing for others after their death. Helping people do this is incredibly important to us at Forbes and that is why we support East Lancashire Hospice's 'Will Week'. People like Kate can put off making a will for so many reasons, so these initiatives are central at highlighting the reasons why you should make a will and giving you the best sources to do that."
The next Will Week for East Lancashire Hospice will take place 23rd – 27th January 2022. More information will be available later in the year, with how you can take part. In the meantime, if you would like to be put on the mailing list for Will Week information from East Lancashire Hospice, please contact our team today – 01254 287014.