Living after Covid
For the Clinical Services at East Lancashire Hospice, the pressure was on throughout the pandemic with no signs of slowing down.
Hospice at Home is an ad hoc service our community team provide to patients within Blackburn, Darwen, Hyndburn and the Ribble Valley. We have a dedicated supportive care team who ensure our patients receive visits from our Health Care Assistants whenever they need them, with no need to plan ahead. We are the first point of access for fast tracking care and liaise with Marie Curie and other health care agencies to meet the needs of our patients. Making sure everything we put in place is to benefit them and their families.
During the pandemic and even now, we might be the only person a patient sees that day. We might be the only support they have to carry on with day to day life and over the last two years we have seen a high demand within our Hospice at Home service.
Although life seems to be getting back to some normality, that certainly is not the case here at the hospice. Covid is still having a huge impact. We are forever growing our clinical team to meet the demand, but the pressure is on now more than ever, with all of our services working successfully together for the benefit of our patients.
Still providing care throughout the pandemic, Covid made us realise how important the service in our community is, which is why we are continuing to develop and expand for the future.
We have been able to re-open our invaluable Therapeutic Bathing Service, for those who access Hospice at Home and don't have the ability to use their own facilities. This means they are able to come to the hospice, where we can meet their needs. As one patient's family member commented, "she thoroughly enjoyed her bath and soaked her troubles and cares away!"
We are currently recruiting for volunteers as part of our Befriending Service. Patients who may need extra support, or someone to talk to can access this service. By sitting with someone for an hour or so, you can help make a difference to their day, helping reduce social isolation and giving individual attention and support. Does this sound like you? Get in touch with us and be part of a valuable service at East Lancashire Hospice – 01254 965851.
With your support, we are able to continue meeting the demand for all of our patients and their family, whether that be out in our community or within the hospice.
As the Head of Community and Supportive Care at East Lancashire, I am able to see day in and day out the difference your support means to each individual that comes into contact with us. To be able to carry on providing the care and dedication to each individual for years to come and develop how we do this would not be possible without you – Thank you!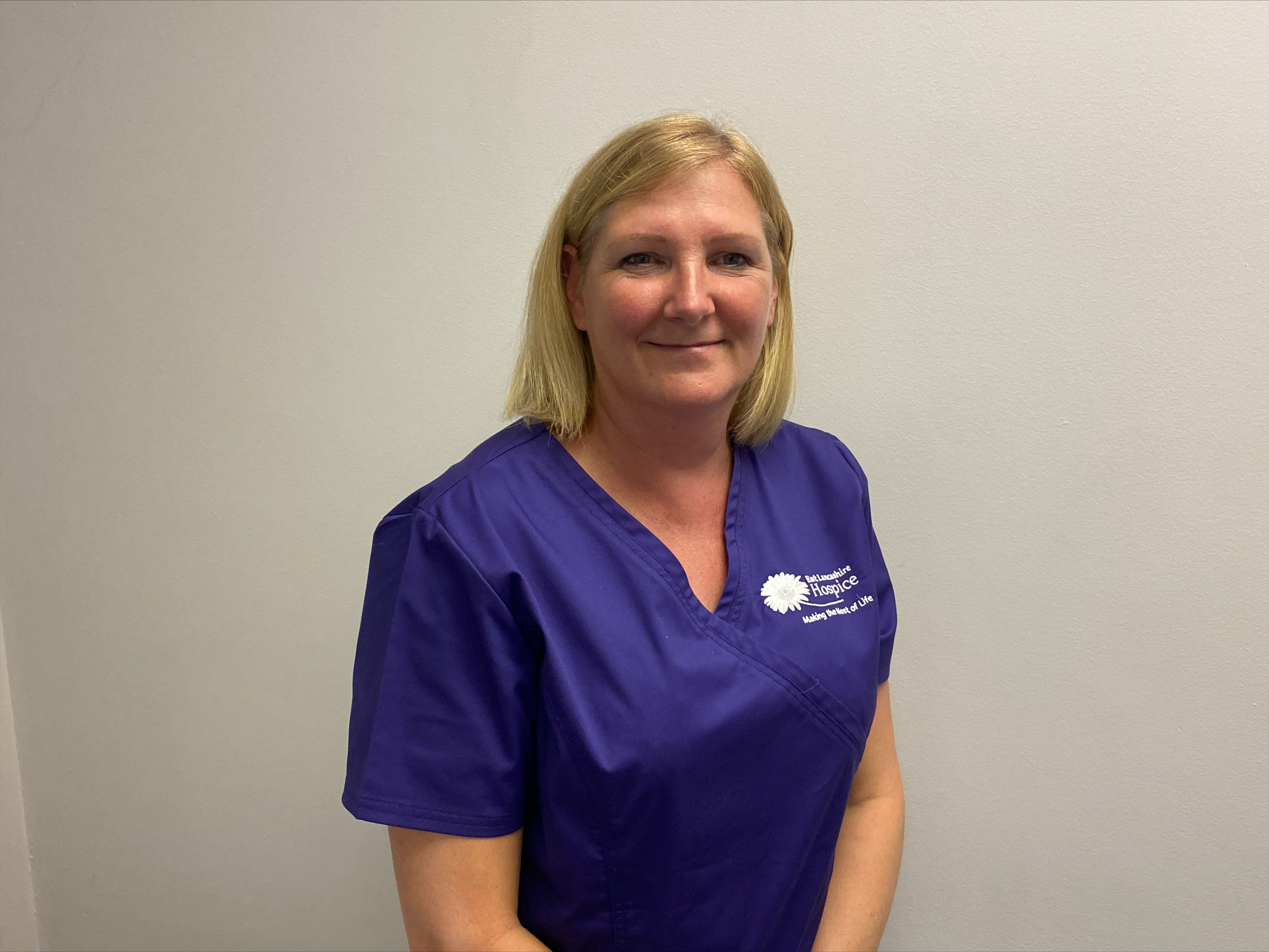 Gaynor Barlow
Head of Community and Supportive Care