Artworks help lift spirits at hospice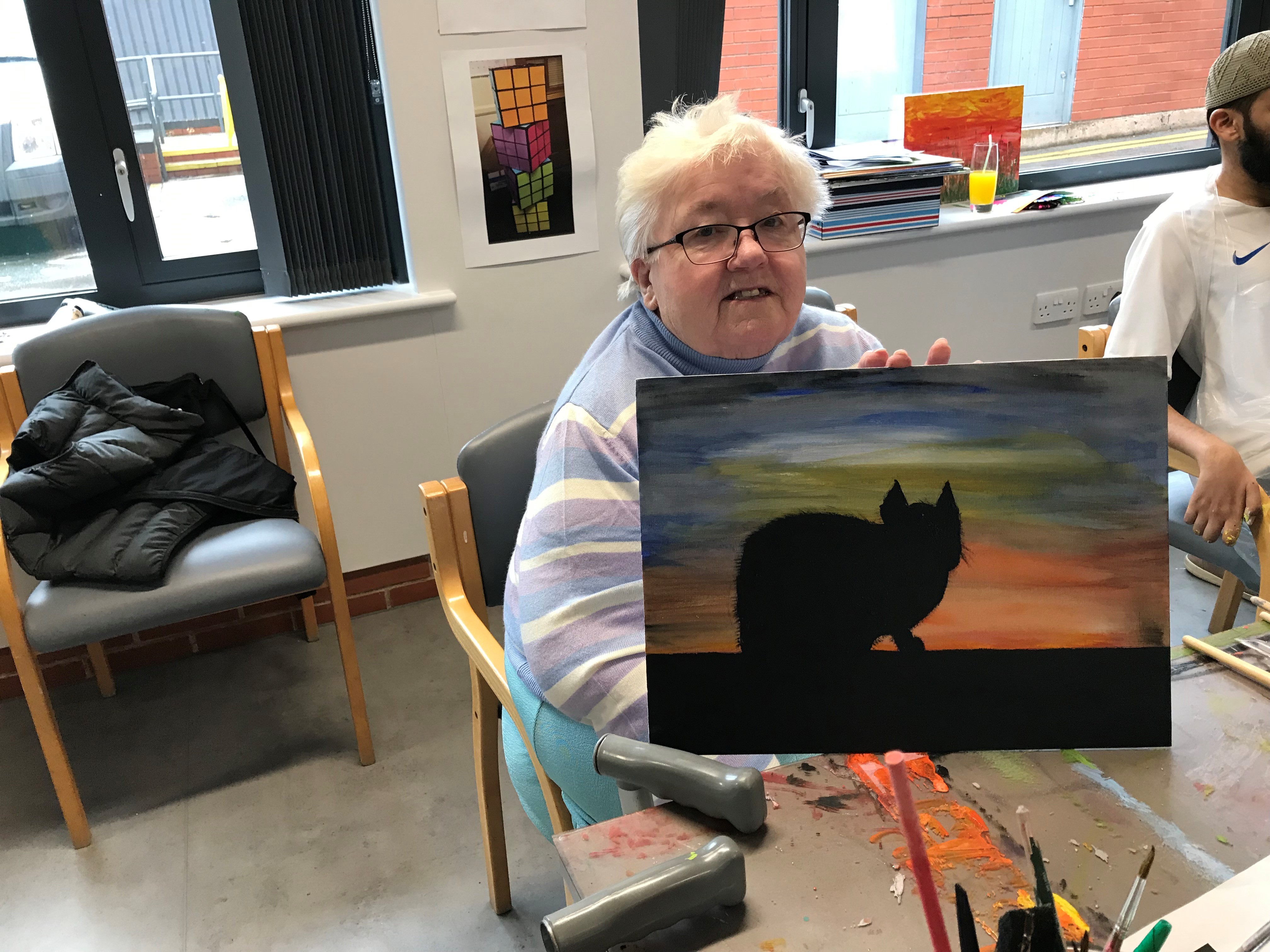 Martha Dawson pictured with the gifted artwork
Patients that attend the Creative and Support Therapies (CaST) department at East Lancashire Hospice recently enjoyed an art course where they developed their techniques with drawing and painting.
Avago Art, an art course at the hospice, is a series of sessions where patients that attend Creative and Support Therapies (CaST) create drawings and paintings using different tools and techniques.
The course is facilitated by Denise Williams, Quality and Compliance Lead at the Hospice.
Hospice day patient, Martha Dawson, who attends CaST every Wednesday took part in the art course and met with Mark Elliot who visited the group whilst he was on the inpatient unit.
Mark commented on how much he liked one of Martha's paintings so she offered it to him as a gift, which he happily accepted. He then asked the nurse that accompanied him from the inpatient unit if he could hang the painting on the wall of his room. The nurse agreed and helped him to hang the picture on the wall when he returned to his room on the inpatient ward.
Mark spent the last couple of weeks of his life at the hospice on the inpatient unit where he received round-the-clock care. His wife, Phillipa, asked if she could keep the painting after his sad passing as it had gave him so much pleasure in the last weeks of his life.
Martha commented: "I'm so pleased that my painting had been a source of pleasure for a friend and also to know that it would be a source of comfort to his wife.
"If I hadn't learned how to paint then I wouldn't have experienced the enjoyment of creating the painting or the pride in knowing that it brought comfort to a friend and his family.
"If my painting gave Mark a few days of happiness, then every brushstroke had been worthwhile."
Denise Williams, Avago Art Facilitator, said: "Having a go and learning how to paint is valuable in itself. The process of creating art is both therapeutic and enjoyable.
"If your artwork can bring joy to someone and provide comfort to others then that's priceless."
East Lancashire Hospice is all about making the most of life! For 35 years, East Lancashire Hospice has continuously provided a special way of caring to people suffering from life limiting illnesses throughout Blackburn, Darwen, Accrington and Clitheroe.