Back of the net for East Lancs Hospice
Since 2013, Ben Wiseman has been organising football matches to raise money for East Lancashire Hospice who cared for his dear friend, Warren Wolstencroft. Ben and Warren both shared a love for Blackburn Rovers and attended most matches as season ticket holders.
After losing Warren to cancer, Ben wanted to do something they both loved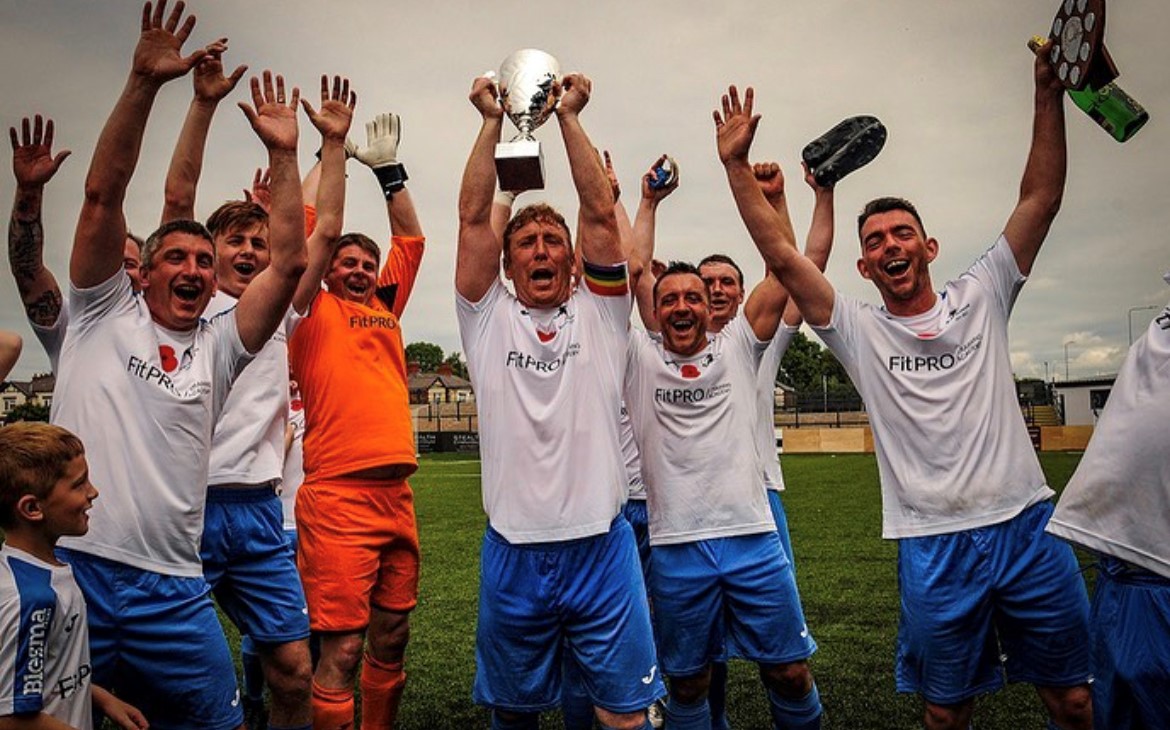 , but also something that would give back to the hospice and so he began to organise charity football matches. These have been extremely popular over the years as the game enables everyday people for one day to live their dreams, to be like professional footballers. The teams have been lucky enough to play at stadiums such as, Fleetwood Town, Bolton Wanderers, Macclesfield Town and Blackburn Rovers. The events are extremely fun and not only do they raise money for the hospice but brings real community spirit to each one.
This year's football match was held at the Leasing.com Stadium, home of Macclesfield Town and the match raised over £1,500.00 for East Lancashire Hospice.
When asked why he chose to do this for the hospice, Ben replied, "In 2013 I lost a good friend to cancer called Warren Wolstencroft. In Warren's final weeks the hospice staff were there to support him and I'm delighted to do all I can to enable others receive the same level of care and compassion he did."
Since beginning his organisation of the charity football matches, Ben has raised over £17,000.00 for East Lancashire Hospice, which will help towards caring for patients with life limiting illnesses in the communities of Blackburn, Darwen, Hyndburn and the Ribble Valley. Ben commented, "Each year the support we receive means more than words can say, people have become involved that have no direct connection to Warren at all."
He continues, "That is the testament to the man he was and the legacy he wanted us to continue in his absence. Through players, spectators and sponsors the support is unbelievable and beyond all expectations."
One of Ben's reasons for carrying on Warren's legacy, is not only to raise as much money as possible for the hospice but to also to try and change the stigma around Hospices. "People sometimes have a preconception of hospices given the scenario most patients find themselves in to be admitted, however whilst I visited Warren and the times I've been to do cheque presentations, this opinion couldn't be further from the truth. The facilities and the staff are superb and they do everything they can to support not only the patients, but their families as well. I'm happy I can play a small part in enabling that to happen in Warren's memory."
Leanne Green, Fundraising and Lottery Lead at East Lancashire Hospice said, "Ben is such a passionate person about the hospice and the work he puts in to make sure money is still raised in Warren's memory is unbelievable. He's an amazing ambassador for us and we cannot thank him and all involved in the football matches enough for their hard work. The hospice was built for the community, by the community and it's thanks to supporters like Ben that we are able to continue providing our services now and for many years to come."