Elektec announce sponsorship of Sunflower Memory Garden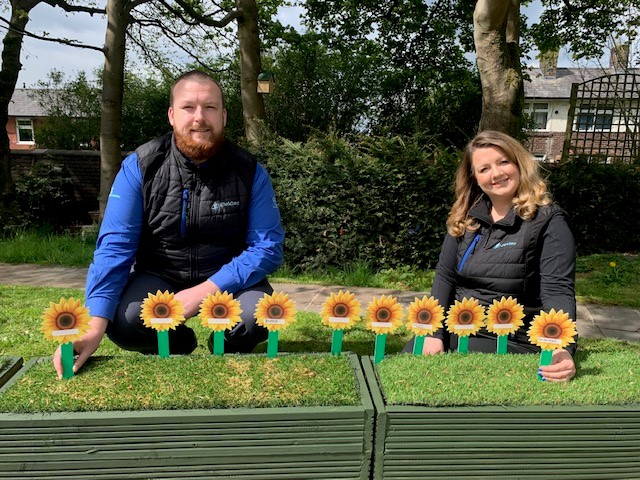 Long term hospice supporter, Elektec, Electrical Contractors from Darwen have announced that they will be proud sponsors of the East Lancashire Hospice Sunflower Memory Garden 2021.
The Sunflower Memory Garden which takes place every year at the hopsice is an important event on the calendar and offers supporters the opportuity pay tribute to a loved one. In return for a donation, supporters receive a beautiful wooden sunflower plaque bearing the name of their loved one or alternatively there is the option to place it in the hospice garden where it can be visited with family members (Please note that this must be arranged by appointment with the fundraising team).
Charlotte Knowles HR & Finance Manager for Elektec said "We have a long history with the hospice which initially started when I volunteered there for a year or so whilst I was studying at University. Years on we continue to work closely with the team, supporting them wherever and however we can including offering services such as FREE PAT testing to help ensure that any money raised is spent on the provision of patient services. This year we are only too delighted to sponsor the Sunflower Memory Garden which offers a particularly special connection for me as Sunflowers are my favourite flower and were used in my wedding bouquet!"
Leanne Green, East Lancashire Hospice Fundraiser said "We are delighted that Elektec have agreed to sponsor our Sunflower Memory Garden this year which is a really popular event with our supporters. By partnering with such a key business in our local community, we are able to further raise the profile of the event and in turn raise vital funds at a time when we couldn't need them more. We are incredibly grateful to Elektec for everything they do for us which means so much to us all and we look forward to a long partnership together".
If you would like to dedicate a sunflower plaque, please visit our website - eastla­nc­shos­pice.­org.­uk/­sunflo­wer­garden or alternatively you can call the fundraising team on - (01254) 287011.
If you would like further information on Elektec and their services please visit elektec.co.uk or call 01254 775804